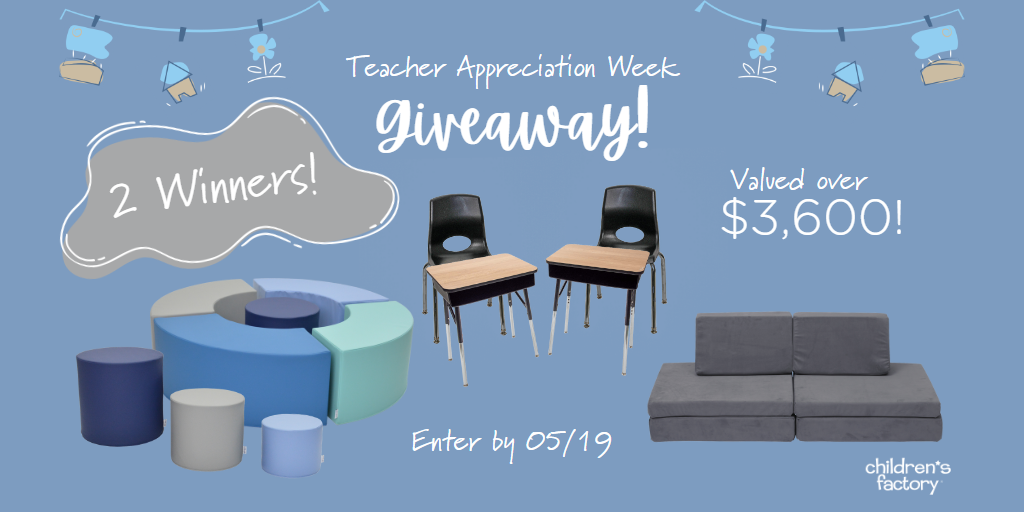 In light of Teacher Appreciation Week, let's celebrate with an amazing Teacher Appreciation Week Giveaway! We're giving away a Gray Whatsit™, two items from our new Tranquility Collection, and two As We Grow™ student desks and MyPosture™ chairs. This is the perfect opportunity to create a comfortable and inviting learning environment for your classroom. Don't miss out on this chance to win! Enter Now!
Undoubtedly, as a teacher, you know how important it is to have a classroom that is both functional and comfortable for your students. This giveaway is a great opportunity to update your classroom furniture and create the perfect learning environment for your students.
Here are a few reasons why you should enter:
Firstly, the Whatsit

™

and Ottoman Trio are perfect for creating a cozy reading nook for your students. They can relax and read comfortably, which will encourage them to read more.
The Curved Seating Set is perfect for group activities and discussions. Your students can easily collaborate and work together, which will help them develop important social and communication skills.
In addition, the Tranquility Collection is designed to reduce noise levels in the classroom, which can be a major distraction for students. With this furniture set, your students can focus better and be more productive.
The two student desks and chairs are essential for any classroom. They provide a comfortable and functional workspace for your students to complete their work.
Don't miss out on this amazing opportunity to upgrade your classroom furniture and create a more inviting learning environment for your students. Fill out this form to enter. Enter today and you could be one of two lucky winners! Items are valued over $3600, so don't miss out on this opportunity. Enter by 05/19 for your chance to win!
tags: