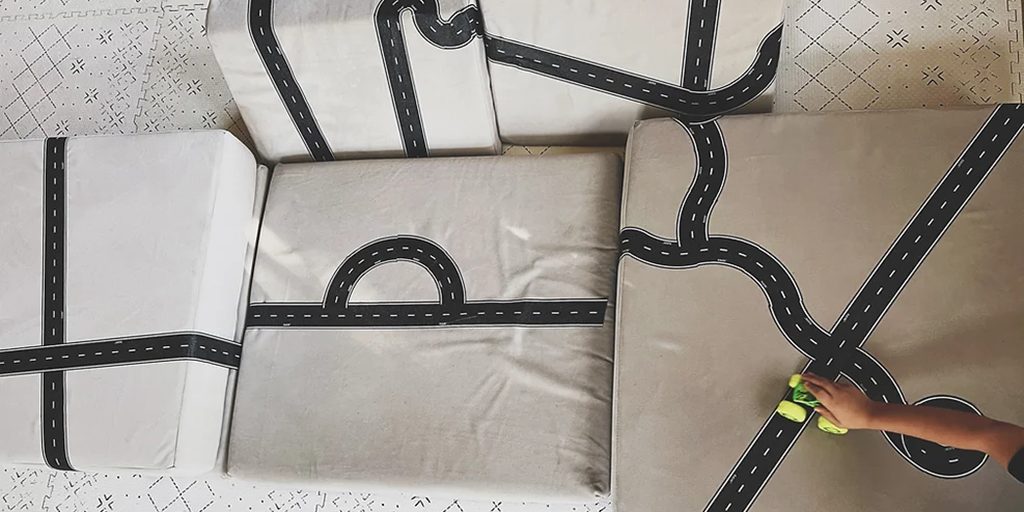 Let's play, the creative way! Take our Whatsit to the next level with this Whatsit DIY Roadmap activity!
Interested in adding some variety to playtime? Checkout this fun activity idea from one of our influencers, Tinkerwonderplay.
We know and love how versatile our Whatsit is. From a couch to a house, from a chair to stacked stairs; the Whatsit can do it all. Now let's try adding in toys. These road stickers can be easily added and assorted on our Whatsit to create the perfect terrain for any toy, especially cars. You can find these stickers on Amazon.
What makes the Whatsit perfect for this activity is that just like the stickers, the Whatsit can be rearranged in various ways giving your child even more freedom to decide how they want to construct their roadmap. It's soft foam structure ads comfort to your child as they play the day away; no need to settle for the hard floor or hard edges of blocks. Your child can immerse themselves in this fun activity with this versatile furniture piece. To add to the versatility of this piece, the Whatsit is currently available on Amazon in jade, gray, gold and navy and will soon be available in the taupe color pictured here in early 2023! We can't wait for it to launch!
Take a look at how this influencer's son found hours of play from this simple Whatsit DIY Roadmap activity!
tags: