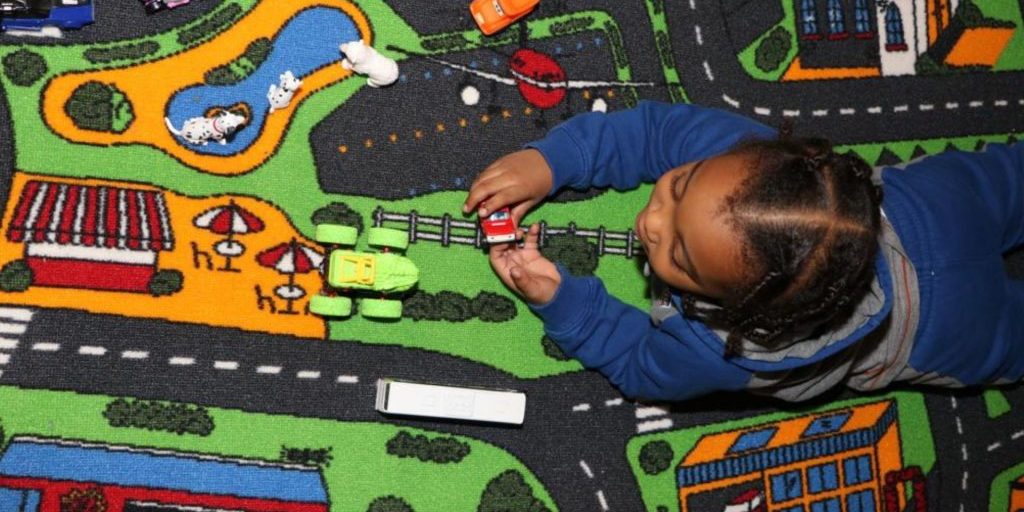 Not sure road play carpets are useful for back-to-school? Here are 5 ways you can use the City Life Play Carpet to enhance growth and development this fall:
Place the play carpet in the middle of the room with some toy cars and building blocks. Tikes will begin to play with each other from each side of the carpet.
Play carpets act as the catalyst for the imagination. Kids will imagine all sorts of scenarios as they pretend to visit the hospital, the gas station, the bus station and more.
Children do not necessarily require playmates to have fun with a play carpet. It's important for kids to learn to entertain themselves. Play carpets work perfectly for these solo play situations.
Builds Visuospatial Skills
Visuospatial ability refers to how we understand and process the relationship between different objects and space. As children play with toys and blocks on their play carpet, they will be developing basic visuospatial skills. Toddlers learn basic visuospatial skills. Over time, these skills develop so as adults we are able to drive vehicles and perform millions of other tasks.
Playing with toy cars and building blocks on the City Life Play Carpet is a beginning exercise for STEM learning. Encouraging children to learn about STEM subjects is pivotal for our future. It prepares kids to continue to pursue science, technology, engineering, and math related professions that solve the world's most complicated problems.
Influencer @misschriscash says about the City Life Play Carpet, "These are such classic play mats! You can never go wrong with the City Life Play Carpet for the little car lover in your life. My boys love playing with their cars and navigating the roads on this map. Great for imaginative play!"
To learn more about other play carpets options, read "Pastel Pretend Play Carpets Create FUNtastic Play Experiences".
tags: