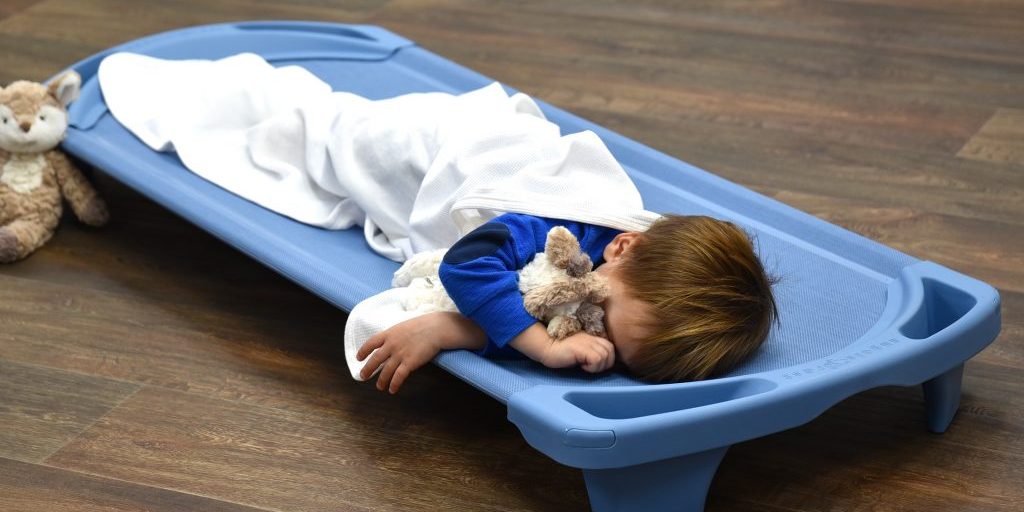 Does allotting time for naps seem unimportant? It may or may not surprise many parents and educators to learn research shows preschool kids benefit from classroom naptime. Naps enhance memory and support learning.
Creating a Relaxing Napscape
Improving naptime spaces begins with fostering a sense of relaxation, safety, consistency, and security. Teachers need to start by helping kids slow down. When teachers are relaxed, kids will be more relaxed. A consistent routine is one of the keys to creating the right atmosphere. Keep kids on a regular schedule. It's the best way to reduce stress for caregivers and teachers as well as children.
Naptime Routines Begin with Lunch
During lunch, allow each child to leave the table when finished with lunch versus waiting till every child is finished. Most children are not good at waiting. Asking them to wait when they need to be winding down for a nap does not help reduce anxiety and enhance relaxation. Waiting is an important skill, but now is not the right time to practice.
Get kids into a routine where they leave the table and are guided to go use the bathroom. Encourage them to wash their hands and face afterwards.
Next, make it easy for kids to locate the appropriate nap cot or mat by having them labeled with each child's name. If kids require assistance getting their cot or mat and bedding in place, then help them. Most children will be able to do these tasks for themselves. The best teachers customize tasks to suit each child's abilities.
Encourage kids to be silent during this routine. It's important to create a restful environment for all children. Regardless of how long it takes tikes to eat their lunch, all will have a restful environment for snoozing if kids stay quiet during their naptime set-up routine.
Help Children Relax
Not all children view "light out" as a relaxing time. Educators play a pivotal role in slowing the speed of life down and quieting any fears kids may harbor. Little ones need to know there are no monsters in this classroom! Educators can say things like, "You can go to sleep now. I'll watch over you to make sure you are safe."
Some techniques for relaxing for people of all ages include:
Deep Breathing – Breathing deeply is an effective way to calm the body's natural response to stress. Coach children to use deep breathing to slow down the heart rate and lower blood pressure.
Progressive Muscle Relaxation – Again, teachers can mentor kids how to relax by showing them how to tense then relax different muscle groups. Start with the toes and then move up the body till no one is awake anymore!
Visualization – Also known as visual guided imagery, this technique uses the imagination to shut down negative thoughts or worries by focusing on peaceful images. The teacher guides the child to imagine they are laying in the shade under a tree on a warm sunny day, etc.
Soothing Music – Listening to calming sounds like waves crashing on the beach, the sounds of whales communicating, or classical music can help kids relax.
A Comforting Story – caregivers can read a comforting story using a soothing, soft voice to lullaby kids to sleep.
The Right Naptime "Stuff"

Having the right nap time equipment is pivotal to creating the right environment. Nap cots and mats range in quality and benefits. Designed to reduce the amount of space they consume, SpaceLine® Cots allow twice the number of cots to nest into each other. Less space wasted for cots means more open space for indoor playgrounds, tinker spaces, and other fun learning nooks.
SpaceLine® Cots continue to enhance sleep by offering fully enclosed ends for safety. Heat-sealed seams reduce loose threads to ensure your investment lasts for many, many years.
SpaceLine® Cots arrive fully assembled. Why hassle with assembling cots? Life is busy. When you choose fully assembled cots, you will have more time to spend with the kiddos.
The 3 C's Ensure Naptime Bliss
The 3 C's of napping are comfort, cushion, and coziness. Cots are very comfy choices. One advantage to cots is they provide temperature control all year long. They are not too hot in the summer since air will flow underneath the cot. In the winter, the right cot sheets and blankets will keep kids cozy & warm.
Should you choose rest mats instead, be sure to consider the thickness of the mat before making an investment. Angels Rest™ mats feature 1 or 2 inches of cushion to let nappers sink in for a comfy nap. (CF400-508RB for 1" or CF400-509RB for 2") Both mats offer heat-sealed, waterproof edges to protect the inner foam.
Blankets and the appropriate sheets maximize the 3 C's as they pertain to classroom napping. Our new Angel's Rest™ Microfleece & Cotton Thermal Blankets (AFB7958 and AFB7955 respectively) take softness to a new level. Both feature a double needle cover stitch to keep the blankets from fraying. Thermal Blankets have a waffle knit designed to trap warm air between the yarn. Kids will stay toasty even in the winter!
Cot sheets, like our Angels Rest™ Fitted Cot Sheets in Gingham, ABC Print, and White, are made from a cotton/poly blend. Durable elastic loops keep sheets from slipping and getting bunched up, which means napping is always as comfy and cozy as possible. Children's Factory® also makes fitted sheets for rest mats. These sheets have special pockets designed to easily slip over the corners of 1" or 2" thick mats. All cot and rest mat sheets are machine washable to ensure spaces stay clean and promote wellness.
The Exception to Every Naptime Rule

While most children benefit from regular naps, there will always be exceptions. If a child is not tired, then offering a quiet nook where they can work on a puzzle or read a book is a perfect second option. The important thing is to preserve the restful, safe, stress-free environment you have worked hard to create for the majority. Who knows? After a few minutes of quiet time, you might find these children nap anyway. To read more on this subject, go to Rest Time Tips for Creating Safe & Healthy Spaces.
References:
https://www.nih.gov/news-events/nih-research-matters/naps-can-help-preschool-children-learn
https://www.nih.gov/news-events/nih-research-matters/resting-may-boost-memory
https://www.naeyc.org/resources/pubs/tyc/dec2016/nap-time-letting-go
tags: