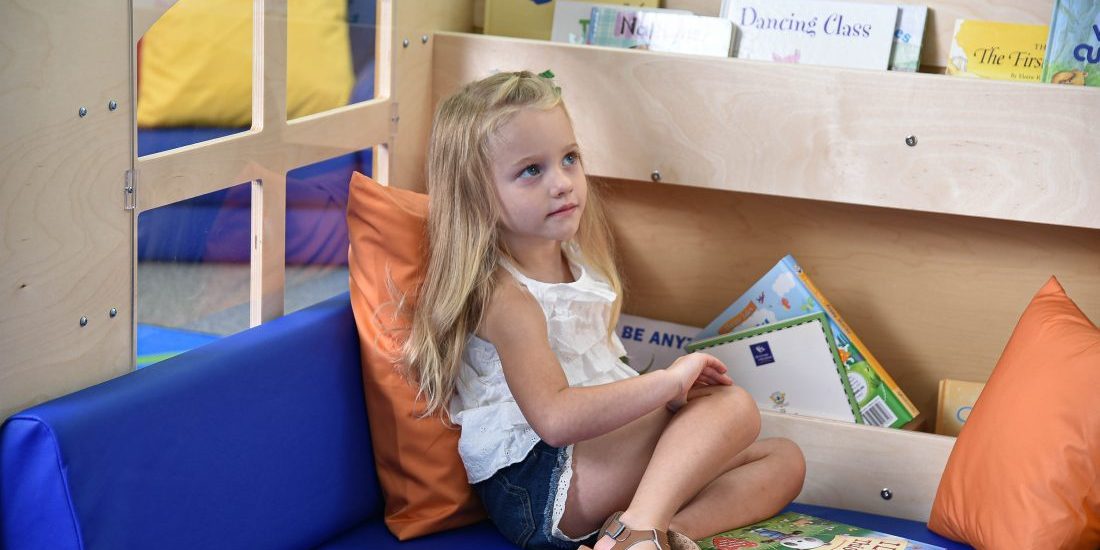 A child's learning environment can significantly affect everything from performance and well-being to their ability to process information and achieve academic success. Gen A. refers to Generation Alpha. This age group starts with children born in 2012 and will continue through those born till about 2025. (This constitutes approximately 48 million children in the U.S.)
Enhancing learning in every way possible can be achieved in a myriad of ways. Reimagining our learning environments to match how Gen. A's process information might be one area where we can make a quick impact.
The Multi-Level Learning Environment

A learning environment with flexible seating options make it easy for children to move around during the day so they can digest information in different spaces. It's a great way to increase engagement.
Try to create unique, multi-level nooks where kids sit on floor cushions (low-level), learn while sitting at activity tables in chairs (mid-level), and standing at other raised activity tables (high-level). Incorporating all three levels into your learning space will mix things up.
This space allows the whole group to meet for mini-lessons, wrap-up conversations, homework assignment reminders, etc.
Independent Thinking Zone
This is a quiet zone for kids to ponder subjects, work independently.
Learning to work with other children is a skill they will use throughout their lives. Placing children in small groups where they can mentor other children and be mentored is a positive experience. (Read more about using a More Knowledgeable Other and Cooperative Learning Exercises to help kids learn in our Higher EQ blog.)
Gen. A doesn't know what it means to be disconnected from technology. Kids will use these spaces to gain the skills they need to be effective in the workplace someday. The tech wizards of tomorrow are most likely today's Gen. A's. Give them the space they need to become those wizards we need to solve tomorrow's problems.
Try to engage all their senses with the different spaces you create. This will help their growth and development when they learn to use auditory, visual, and kinesthetic skills during lessons.
Inspiration Zone, Makerspace, Genius Bar, Tinker Zone or Wonder Shelf
Makerspaces are for tinkering. Imagine a space containing components and tools where kids can enter and use what is available to conceptualize, build, and finish a project. The goal of these spaces is to give kids the opportunity to collaborate with others, generate new ideas, and then create new things or improve things that already exist. Our world has become increasingly automated. It's important for kids to get hands on – not to just experience things in a virtual world on a screen. Hand-on tinkering develops creative and cognitive thinking skills as well as dexterity.
Makerspaces also encourage littles to practice STEM skills in a hands-on environment. These are also safe spaces where kids use a "trial and error" method to develop critical thinking skills. There is no failure here; no poor grades given. Not all attempts will end in success and it's important for kids to grow up in an environment where failure is okay. It's a place designed for improving incrementally.
Wonder Shelves and Genius Bars house different components in containers for everything from making bracelets to math manipulatives. Don't keep these things locked away. They need to be available for use all the time. It's a perfect way to tap into each child's curious nature. A new container placed on the Wonder Shelf! Ooh lala.
Creativity doesn't emerge on command. It waxes and wanes as the brain processes information over time. We never know when inspiration will hit! Therefore, we need to give kids some downtime to put their creativity to work on their creative schedule – not ours.
Reading centers are pivotal for encouraging tikes to want to read. These spaces develop a child's imagination as their mind works to create mental pictures of people, places, and events as the book progresses. Oddly enough, creativity is needed even in a modern world filled with technology. If the Steve Jobs of the world don't conceptualize it, then the consumer never gets to use it. Therefore, it's never been more important to encourage children to read and develop the right side of their brain responsible for creativity.
The world is not what it was in 1950. Sometimes kids just need a safe place to take a breather. This special place might be part of the Reading Center or the Individual Thinking Zone. It does not necessarily need to be its own space.
Do teachers need to waste precious classroom space with a huge desk? Instead, a kidney-shaped activity table surrounded by kids' chairs with storage solutions for the teacher behind it might be the ticket. It's a great way to optimize space while still providing the teacher with everything needed.
Make Your Learning Environment Mobile
Add casters to chairs and activity tables to make them easy to move.
Provide floor cushions and lightweight flex-space seating options with built-in handles for toting.
Have we been getting this collaboration thing wrong all these years? When teachers sit 4 kids at a table and say, "Sit here and collaborate until the project is completed." This model doesn't give kids the freedom to really collaborate on a higher level.
Mobile seating gives kids the freedom to exceed every teacher's wildest collaboration expectations. Initially, kids usually cluster in expected groups. Teachers might find kids also begin to swivel around to engage with other small groups or even roll their chair over to engage with them for a few minutes. All this activity happens without the teacher directing.
Make Your Learning Environment Accessible
Ask the administration's permission to have custodians adjust the height of whiteboards, chalkboards, hooks, Wonder Shelves, etc. to ensure all children can use them. Making your room function optimally is a great place to start.
Make sure you have enough "stuff" for every student to engage in an activity. Imagine a Tech Center with only enough computers for 4 kids and 5 are in the group. Or a Reading Center with only 4 books when there are 5 kids in the group. Preparing your space for the size of your group will enhance the learning experience for the children and allow your lessons to flow smoothly.
What part of your classroom will you reimagine this year?
Visit our Flexible Seating page on Amazon to view more multi-level options for your learning environment.
Woodland Square Floor Cushions
References:
https://www.edutopia.org/blog/visualizing-21st-century-classroom-design-mary-wade
https://engagetheirminds.com/2013/08/08/how-about-adding-a-genius-bar-to-your-classroom/
https://www.edutopia.org/blog/embracing-student-creativity-wonder-shelf-rafranz-davis
https://www.honorsgradu.com/intrinsic-vs-extrinsic-motivation-17-practical-application-ideas/
tags: