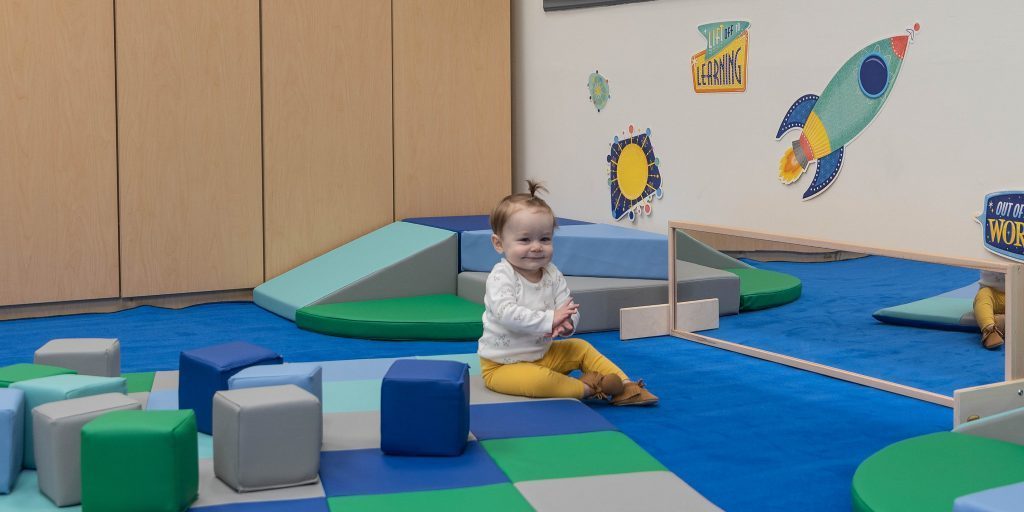 Everyone has probably struggled to fill an awkward corner in their home at some point. Filling those corners in daycares and preschools can be even more challenging. Utilizing dead space in your classroom is a perfect opportunity to amp up the fun-quotient children experience throughout the day. It also helps classrooms stay organized, and creates a safe environment by removing clutter from the floor. Instead of allowing dust-bunnies to play in those corners, here are 15 ideas for fully utilizing your ugly duckling corner spaces.
Classroom Corner Climbers
Corner climbers can fill a corner and transform it into the ultimate soft, indoor playground. CF specializes in designing fun playsets to fit in any size space. Whether you are trying to fill a small corner in a private home's playroom or a huge corner in a preschool or daycare center, we have the right corner climber to fill that space.
Small in Size – Big on Fun
The Mini Spiral Mountain (CF810-013) or Snuggle Corner Set (CF810-012) in Contemporary Chic colors are perfect for small spaces. They feature multiple levels of climbing and FUNtastic colors designed to engage children while also meshing well with any modern or classroom décor.
Turn Boring Corners Upside Down
Your "boring corner" will lose its reputation when the Marshmallow Upside Downs (CF710-096) is placed in it. Many children will be able to play together on this set without the whole room becoming a soft play environment.
Slide into the Corner Hall of Fame
The Corner Ridge Climber (CF322-218) will be leading your corner into the Hall of Fame. This corner climber has 2 different slides for tikes who love to explore on their way up and then glide down to the bottom.
Toddler AND Baby Friendly
Mikayla's Mini Mountain (CF321-938) has something for everyone. Many shapes give toddlers all the space they need to climb and crawl while a ball pit provides entertainment for babies 8 months+.
Too Fun to Keep It A Secret
The Cozy Woodland Corner Passageway (CF710-150) is notable for its dual tunnels that lead to a hidden secret space in the corner where tikes can take a breather or use as a safe house during pretend play activities.
"You-Build-It" Block and Mat Sets
Place a square or rectangular mat in a corner with blocks and budding architects and engineers will flock to that previously unused space to practice their fine motor and visuospatial skills.
The big, soft, foam blocks included with the Patchwork Mat & 12-Piece Block Set in Welcoming Woodland (CF705-390), Contemporary Chic (CF805-206) colors or Joey's Matching Mat and Blocks Set (CF322-047) are perfect for smaller spaces.
All mat and block combos can be used in the middle of a room as well.
Add Drama with Classroom Furniture

We often don't think of a corner as a place where many activities will fit. Yet, child-sized furniture often will fit in smaller spaces than we realize. Pretend play activities can play center stage in your space, but they can also be broken up into smaller pretend play zones in corners.
Our 3- and 4-Piece Contemporary Kitchen Sets (ANG4300, ANG4200) can be place in a row or placed in a corner with some of the pieces on one wall and some on another. It's ideal for revamping the look of classrooms since you will have so many options. The stainless steel-like laminate finishes help these sets to look modern.
Don't Pretend Corners Don't Exist
Pretend play might require a place for tots to perfect their costumes. Our Dress Up Storage Center (ANG1076) works perfectly in a corner. It features hooks for hanging costumes, shelving for accessories and an acrylic mirror for tots to make the final additions to their costumes. For smaller spaces, Value Line Dress Up Storage – Small (ANG7170) might be a better fit.
Corner Storage for an Organized Classroom

Corners are the perfect opportunity for you to get organized without using up precious play space. Here are our top recommendations for using corner storage to get organized:
COMING SOON – Stack 'em High
Floor Cushions Storage Cart (ANG9048) is the next big thing in storage. Tired of trying to stack floor cushions on shelves or in corners only to have them fall over? This cart will let you stack them up high. It also rolls on casters so you can easily move it from space to space for different activities. (Pictured here with floor cushions – sold separately.)
Rest mat corner storage units like our Value Line 4-Section (ANG7163) and 8-Section Rest Mat Storage Units (ANG7162) allow you to store a lot of mats in a small space. Organizing your rest spaces will keep them restful.
Lockers have been around forever, but this locker unit might be worth a second look. The Infant Toddler Locker Unit (ANG1858) features a place to hang coats and backpacks, cubbies for shoes, and a built-in plastic name tag holder for personalizing each cubby. You might find when everything has a place, teachers, caregivers, and kids will spend less time looking for "stuff" which will give everyone more time to play and learn.
The Value Line Birch Multi-Section Storage with Clear Trays (ANG9052TC) has something for everyone. Teachers will love the upper, customizable, horizontal, and vertical shelves for organizing teaching aids, colored paper, and artwork to send home with parents. 15 cubbies and 15 clear cubby trays provide ample space for assigning each toddler their own tray or to use as storage for toys, blocks, games, and other classroom essentials. Don't fret about it being too difficult to move. This unit features easy-roll casters to facilitate movement from flex-space to flex-space throughout the day.
Active Kids Need Activity Carts
With kids notoriously sitting and using computers and tablets many hours a day, it's nice to have an Activity Cart (AFB7910) to storage everything you need to encourage active play. Cart rolls on 4 casters and allows caregivers and teachers to move about the room to distribute play equipment.
All-In-One Reading Nooks Covert Classroom Corners
All-In-One Units for Small Spaces
Book displays are the quintessential reading nook addition. But what if you could add a book display with seating built-in? The Comfy Reading Center (CF805-165) and Mobile Reading Center (ANG1710) are the perfect all-in-one units you can place in corners or anywhere in the room. Just make sure the corner has appropriate lighting for reading success.
All-In-One Units for Bigger Spaces
The Value Line Birch Reading Nook (ANG9002) takes up a little more space than some of our other options, but it might be worth it. It's large enough for several kids to socialize. Caregivers and teachers can even fit which means story time can be inside the nook when groups are small.
Cozy Corner Seating
The Cozy Woodland Corner (CF710-122) or Cozy Corner (CF322-116) provide kiddos with a corner full of cushy seating where they can take refuge. Sloped, foam backrests provide comfort while reading, socializing, or playing games.
Preschool Contour Seating is available in 3-Piece (CF705-558, CF805-101, and CF805-105) or 6-Piece Sets (CF705-557) so small and large spaces have many options. Modular, place these sets in corners or move them anywhere that suits you. The pieces can be moved any which way for a fresh look.
As We Grow™ Chair and Sofa Set (CF805-309) fits perfectly in a corner to create a hang-out zone for any number of activities. This set grows with kids – just add the optional wood legs to raise the height of the pair. This set also features hardwood frames for extra durability.
tags: