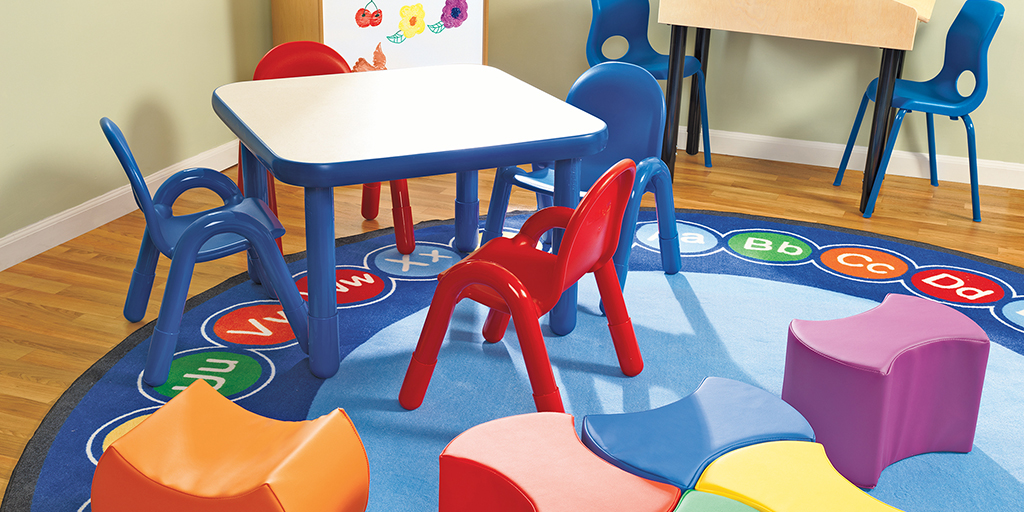 Modular, flexible seating provides an easy way for toddlers and kids to say to their fellow students "Pull up a chair and let's collaborate", without ever uttering a word. Encouraging kids to collaborate on projects, and to learn to use critical thinking skills as they work on projects with other students, is a focus for many schools. Engaging with our peers and being a team player is considered one of the building blocks leading to a happy, successful life as an adult. It's a core social skill where the group learns to capitalize on the strengths of each player, to take turns, to share and to draw in other players to fill in the gaps occasionally.
We need to nurture our tots in the right direction. These skills don't always come naturally. Providing kids with the right furniture to streamline the development process is a great starting point. Yet, modular-type seating has many other benefits as well.
Versatility
Children's Factory offers modular seating in many colors, sizes, and shapes. For example, the Dragonfly Seating Set has both 12"H and 16"H seats designed to suit youngsters of various sizes and ages. This set is versatile since the pieces can be arranged in many ways. Arrange it to look like a flower one day, and a dragonfly the next day. The center table is 20"H and can double as a teacher's seat with the child-sized seats surrounding it classroom or theater style.
Offering multiple sizes ensures every child and caregiver has the right size seat for their height.
Comfort
Comfort is always a priority. Seating can have dozens of advantages, but if it isn't comfortable, then it probably won't get used very often. Constructed using soft, durable vegan leather and sturdy foam, our modular seating options provide a cozy, reassuring environment so individuals and groups can focus and learn.
Mobility
Children's Factory designs flexible seating options for youngsters, caregivers and parents who are constantly on the move. The concept of one child being tied to one desk all day has been replaced by a more engaging strategy. Moving kids from space to space for different lessons has revolutionized how schools in America function. Therefore, modular seating evolved to answer this new requirement. Many of our solutions have tabs or handles sewn to the chairs to make moving them a breeze. Wedge Ottomans and Rainbow Circle Seats are great choices when mobility is a priority.
Low Replacement Cost
Replacing just one section of your modular set when it becomes worn or discolored is always going to be a fantastic way to keep your classroom or homeschool fresh without breaking the bank. A penny saved is a penny earned. A light purse is a heavy curse. You know the sayings. Modular seating helps reduce long term costs without sacrificing style or function.
Customizable
Modular gives you the option to customize your seating to suit your space. Small playrooms might not have enough square footage for a Dragonfly Seating Set to fit. Thankfully, you need not purchase an entire set. Purchase our Modular Seats, Turtle Seats, Circle Seats or Wedge Ottomans individually. Mix and match different shapes, sizes, and colors to create your own personalized space. The sky is the limit.
It's not always a question of buying individual pieces versus sets. We have sets designed specifically to fit in the corner of the room as well as sets designed to give kids 360-degree access to the fun! The Quarter Circle Restful Corner or the Cozy Woodland Corner are comfy choices for corners. To create a more social space, we recommend the Woodland Hollow or the Hexagon Happening Hollow options.
Collaborative
Cultivating critical thinking and problem-solving skills is pivotal to the development of each child. When kids are placed into situations where they are encouraged to collaborate with others, these skills are sharpened as well as their ability to deal with other children. It's like piggy-backing Socialization 101 with Collaboration 101 and Critical Thinking 101. Providing the appropriate seating and tables for collaborative projects is one key to achieving amazing results. Modular seating allows caregivers and teachers to create a "pull up a chair" atmosphere where kids will catch on quickly and thrive.
Have you set any goals for improving your classroom's "pull up a chair" environment? Before you know it, summer break will be here! Now is the time to get started.
tags: