If you have been following the DIY Design series, in Part 1, you chose a fun carpet to set the tone and color palette for your space. In Part 2, you thoroughly investigated all the amazing options available to you. This research helped you further define your room's theme or themes. You also used a great app or old school methods to create a tangible floorplan. Finally, you made a few carefully considered and planned purchases. It's almost time to congratulate yourself, but not quite. There are still a few steps to complete your mission.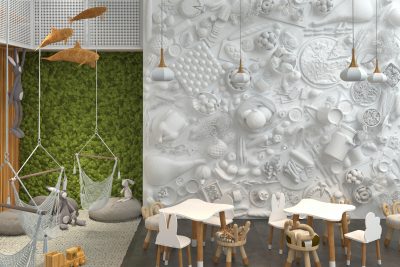 As with fashion, accessories such as make-up, jewelry, shoes, scarves, hats, and/or handbags can take an outfit from pleasant to sensational. Accessorizing a room follows the same principles. Your space is already probably very cool. But let's ponder how a few additional accessories will act as the final touches. Accessories add je ne sais quoi to a space so it's truly memorable and inspirational.
Use 3D Wall Art
3D wall art stimulates curiosity and entices kids to use their imaginations.
At Children's Factory, we often emphasize the importance of encouraging kids to use their imaginations. Don't limit your walls to flat, 2D art. The 3D wall art will transform your space into an imaginarium where kids are transported to different places.
3D art gives a room more texture. As kids develop their senses, your space can be one of the tactile experiences they need to grow. They are not just visually interested in a space, now they will be wanting to touch and feel it as well. When designing for kids with special needs, it becomes even more important to take factors like this into consideration.
3D art can use safe LED lights to further illuminate and provide visual interest.
Not Good at Creating Wall Art?
If creating wall art is not your forte, then pick up a few pre-fabricated options.
Acrylic, shatter-resistant mirrors are perfect for toddlers and kids of all ages since they are completely safe. Youngsters can entertain themselves for hours by making faces in the mirror. Why not indulge them? Bubble mirrors like the Lily the Ladybug Mirror add optical effects to further fascinate little tikes.
Children's Factory's Fuzzy Loop Story Tree is hook fastener strip compatible. Attach pictures of family members, pets, or any favorite. It's a great way for children to share with each other. Do something different with the tree every year. One year you might attach apples, the next birds or squirrels. Your options are endless and the best part is you don't have to be Martha Stewart.
Memorable Phrases
You could have a picture of a bunch of fruits and veggies and say, "I love eating veggies and fruits from my head to-ma-toes. Do you?" This will give you the opportunity to have kids share their favorites with each other, maybe everyone commits to trying a new fruit or veggies one week. You could have a featured fruit and veggie for each month.
Maybe you use the "Our Class is Llamazing" phrase to celebrate Cinco de Mayo with your students. A catchy phrase will not only help kids start to read, but it will make your theme memorable.
Don't Leave Organization to Chance
Staying organized doesn't just happen by accident. It's completely understandable to get all caught up in designing the fun elements without giving organization a second thought. Yet, organized spaces tend to be the safest spaces, which means we need to think through how the room will function. When tripping hazards are removed from the floor, kids are not just safer, they will have more room to engage in different activities. Now is the time to correct the situation. We suggest a cubby storage shelving unit might be the ticket. We have units designed to fit into the smallest spaces. Some are just 12" W. The number of cubbies ranges as well. You could choose a small unit with just 9 cubbies or one that has 10, 12, 15, 20, or 25!
Enjoy the Fruits of Your Labor or Start Planning a Redesign
You made excellent choices and invested in high-quality products to ensure your children are surrounded by the safest and healthiest products on the market. It's time to sit back and enjoy watching your kiddos use the space you designed. Yet, as kids grow, their developmental needs change. Additionally, you don't want your tikes to stop being inspired as the space loses its newness. The good news is, reimagining a space doesn't require you to change every single piece of furniture in a room. One month, you might add a new, inspiring phrase and wall art. The next month, you could move your 15-Tray Mobile Storage Cabinet from against the wall and start using it as a room divider. This way, your space will be split into two, smaller flex-spaces – each with their own purpose. There are a million small ways to change things up, which means your kids will remain motivated and engaged.
Children's Factory would love to share your DIY Designs with our Facebook and Instagram followers! Please tag us on Facebook and Instagram.
References:
https://www.pinterest.com/pin/289215607318486259/ https://www.pinterest.com/pin/92112754856957274/
https://www.pinterest.at/pin/361484307585523560/ https://www.pinterest.at/pin/361484307585523560/
http://teachersmag.com/posts/llama-and-cactus-classroom-decor
tags: