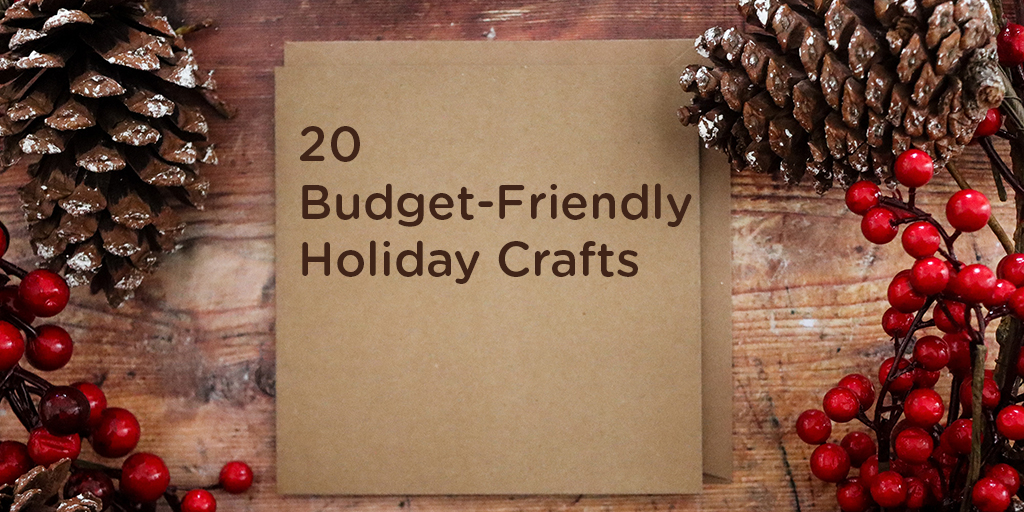 'Tis the season to ponder New Year's Resolutions for 2021. 2020 might be remembered as the year of the face mask, but could it also be remembered as the year we gained 20/20 vision? Hindsight, as they say, is 20/20. It seems apropos 2020 would be known as the 20/20 year for looking back and adjusting our lives to make 2021 the best year ever.
Many parents find it difficult to stay within a set budget during the holidays. COVID might be responsible for reducing our "live" holiday shopping patterns, but the internet never fails to keep gift buying in motion. Entertaining our kids during their time off from school is usually more of a dilemma than shopping. What if all you needed were twenty inexpensive items to create some fun, holiday crafts, and ornaments with the kids? Some of these craft-worthy favorites might already be in your den, office, playroom, classroom, or garage. Children's Factory has a few ideas for making the holidays memorable without heading into 2021 singing the budget blues.
Craft List:
Doilies
Paper Plates
Pipe Cleaners
Popsicle Sticks
Mini Clay Pots
Clothes Pins
Plastic Eyes for Crafts
Small Pompom Balls for Crafts
Colorful Beads and Sparkling Bling for Crafts
Wood Beads for Crafts
Pine Boughs and a 1 Foot High Tree Stump
Small Pinecones
Three Sizes of Small Wooden Log Slices (2-4" Diameter)
A Few Medium Size Tree Branches
Small Twigs
Yarn and Ribbons
Felt
Glue
Paint
Cardboard
Links to 20 Ideas for Holiday Ornaments and Crafts:
NOTE: We recommend you use the ornaments you make from this list to decorate this tree instead of using the ornaments you see pictured.
Reimagining A Craft to Make It Your Own
Our recommended holiday crafts are fun and will turn out great if you follow the directions. Yet, it's not a requirement. In this example, one of CF's Moms went to the Dollar Store and spent just $6.00 to put her own spin on the reindeer mini clay pot ornament idea.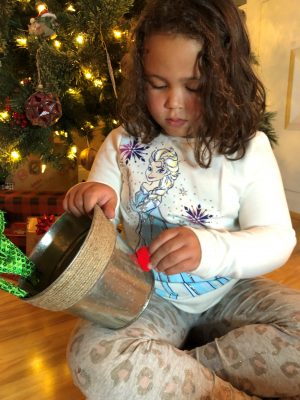 Cute, inexpensive steel-like, tin planters replaced the mini clay pots. $2.00 for two planters. (Find these cuties in the Dollar Tree's flower section.)
Reindeer horn headbands were used instead of pipe cleaners. The headband part was removed from the actual horns so this dynamic duo could glue the horns to the planters. $2.00 for two headbands. NOTE: These horns were the appropriate size for the planters. Pipe cleaners are good for tiny clay pots but not for larger planters.
Pompom noses and craft eyeballs were still used for the face – just larger sized options. Pompoms were $1.00 per bag and eyeballs also $1.00 per bag.
Twine was already glued around the top of the planters for a little extra adornment. Cost = $0.
This Mom decided to use one for candy canes and the other in the kitchen as a decorative utensil holder. Bravo to innovative design!
The project was not super complex. You can tailor any project to suit your personal time constraints and each child's aptitude for completing craft projects. Older children are often able to tackle more complex projects that have the potential to frustrate younger children. It's all about choosing your own adventure – the appropriate adventure for your tikes.
Which craft will you put to the test? How did you alter it to make it unique? CF would love to see your take on these favorites.
tags: