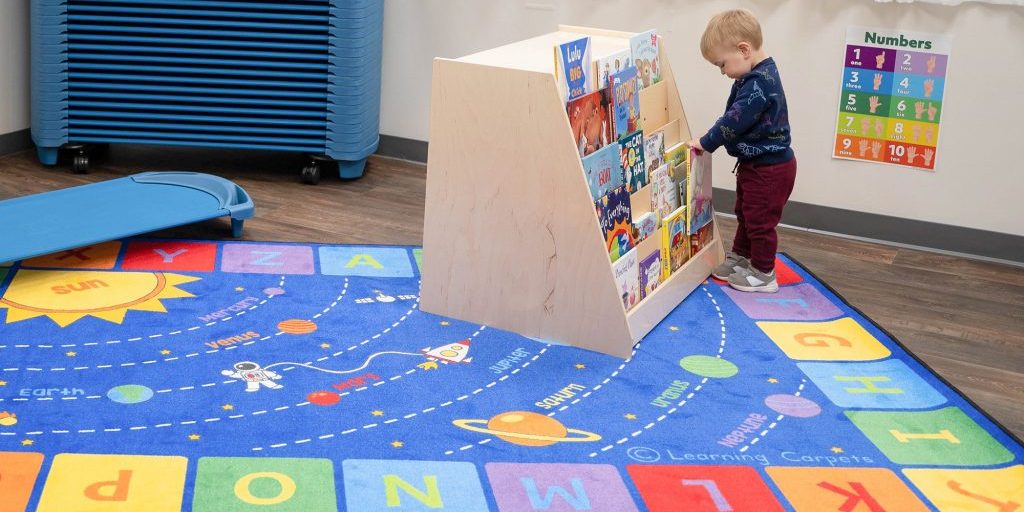 Designing a classroom when you aren't a designer might seem like a chore. Where do you begin? How do you pull it all together and finish with a cohesive look? Dozens of questions might be racing through your mind when trying to decide on which pieces to purchase. Children's Factory wants to help you feel confident you are making wise choices resulting in a magical classroom, homeschool, or playroom experience designed to thrill and delight your children for years to come.
A Carpet is a Cornerstone
Anyone who knows about building will tell you the foundation is everything when it comes to building a solid structure. If the foundation is compromised, then the rest of the structure will easily fall apart. Similarly, when designing a classroom, whether it be in a home or in a commercial setting, the best place to start is with the foundation. A carpet is a cornerstone piece you can use as the baseline to start your design. What colors will the carpet feature? What is the motif the carpet will focus on? Once you have decided upon a carpet, then the rest of your design will naturally flow down that path.
Choosing a Motif
Our Children Of The World Rug features our Welcoming Woodland color palette and gives caregivers and parents the opportunity to teach kids about the importance of multi-culturalism.
There are really two kinds of people. When shopping at a clothing store, do you see an outfit the designers have put together, and then purchase it? Or do you choose some separate pieces and design your own outfit? The former group, those who like to purchase the outfit they see, are the ones we know we can help the most. Children's Factory works with photographers and videographers to create lifestyle images and videos so DIY Designers can pull together a cohesive look.
Add jazz fingers to any homeschool, classroom or playroom with the Alphabet Crayon Rug in Primary Pizzazz colors.
Our Welcoming Woodland theme brings the calming colors of nature into your space. Contemporary Chic will appeal to caregivers and parents who want to design a space with an ultra-modern color palette. Primary Pizzazz themed products utilize bright, traditional classroom colors to pique the interest of every youngster. Once you have chosen a motif, the fun is just starting!
At this point, you might be tempted to buy a rug for your child at the same place you purchase their clothes or favorite snacks. There are three problems worth investigating before you jump in the car.
Have those big-box discount super-stores done their due diligence?
Product safety is a top priority at Children's Factory. We believe every child deserves to grow, develop, and learn in healthy, safe, and creative spaces. Our vision continues to blossom as new technologies and materials become available. Continually evaluating our processes and proactively taking steps to make improvements is baked into our culture.
Products and materials undergo a rigorous, three-part evaluation process:
Testing for flammability, lead, phthalates and other harmful elements proven to negatively affect indoor air quality
Independent third-party specialized testing
Physical and mechanical testing
Children's Factory products received the UL GREENGUARD® Gold Certification which certifies our indoor products and materials for low chemical emissions. Our materials are rigorously tested for harmful chemicals as well as emission levels from our final products in order to preserve indoor air quality. We also adhere to annual re-certification testing and a quarterly monitoring program to ensure ongoing compliance.
Does a common carpet you buy at a super-store double as a teaching aid?
At Children's Factory, we don't think a carpet is just gorgeous, soft, and cozy. A carpet is also a functional teaching aid designed to blur the line between learning activities and fun activities. Children are naturally more engaged when they feel like they are playing – even if they are really learning. It's a win/win.
Will a carpet purchased at a super-store combine with other elements so you're able to pull together a cohesive look?
Many of the amazing products and furniture Children's Factory has available cannot be found at super-stores – not even cheap knockoffs! Therefore, the answer to this question is debatable. You might get lucky and execute. Why take a chance though? When you purchase products intentionally designed with the exact color palette you want, then there is no question as to whether this shade will complement that shade. All design work has been done for you by professional designers.
Next Steps…
Of course, a space needs more than a carpet. DIY Design Part 2 will go into the next step in designing a cohesive look for a classroom, homeschool, or playroom. Stay tuned!
tags: