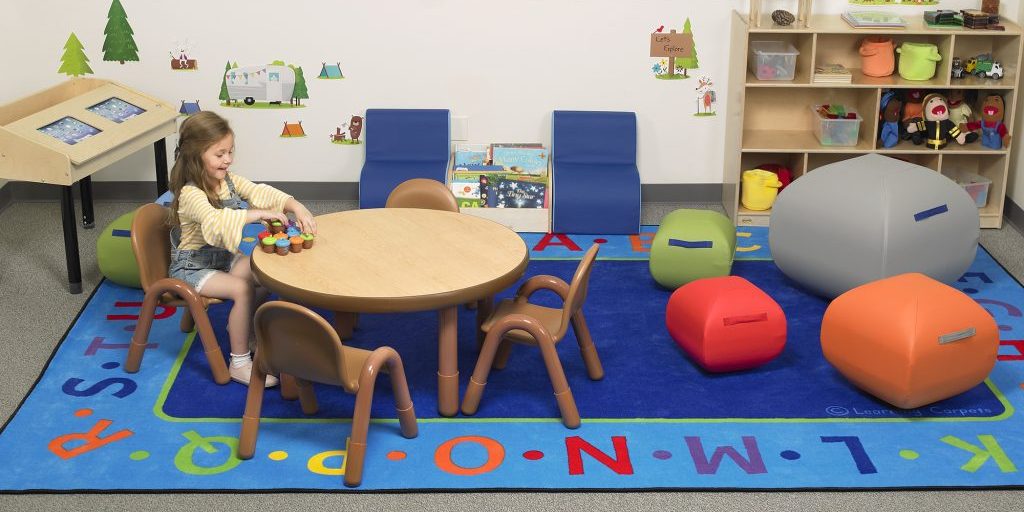 DIY Design Part 1 covered how to use a "fun & functional" educational rug as a cornerstone for designing a magical and memorable space. The blog elaborated on how a carpet can be used as a teaching aid. Part of your decision process likely involved how you wanted to use the carpet. Educational carpets are designed to camouflage alphabet, number, color, and shape recognition challenges so kids feel like they are playing fun games. Some carpets teach kids to tell time or about the solar system. Others display a map of the U.S., teach kids foreign languages, and more. Additionally, your carpet choice was a way to establish the color scheme for the entire room.
Step #2 will involve honing your room's theme while creating a floorplan. It's a step DIY'ers often skip, which can lead to purchasing mistakes and wasted time. While professional designers commonly use design software, we realize DIY'ers probably aren't going to invest in design software. Here are two affordable options:
Old-School Methods Still Work
Pencil and paper might seem antiquated, but it still works. We suggest using grid paper to make it easier to spatially get a feel for exactly how everything will fit. Outline all the important elements in the room, such as windows, doors, walls, and closets. Measure everything so you can accurately represent how much space they take up. Next, make photocopies of the outline. This way you can sketch out many different layouts before you make your final decision.
Tech Savvy Method: Apps
Not interested in measuring and paper? For tech-savvy DIY'ers, there are apps you can use to conceptualize a floorplan. Some allow you to skip the measuring and provide a 3D visual to help you imagine how your space will layout. Try these apps:
Magic Plan
Room Scan Pro
Floor Plan Creator
Amikasa
Does Your Room Have A Purpose?
Let's not get too far ahead of ourselves. You can't really create a floorplan unless you have decided on one or more tangible themes for the room. We kind of assumed you already had a reason for designing the room in the first place, but let's solidify everything. The carpet provided the cornerstone colors to build upon and gave the space a bit of initial definition. Narrowing down the theme or themes of the room is pivotal to successfully create a floorplan. The truth is, many DIY'ers have no idea how many options they have when it comes to designing a space. Designing a room to serve many different purposes will just ramp up the fun quotient.
Will kids be engaging in pretend play here? What kind of pretend play? Pretend play encourages kids to socialize, helps improve their language and communication skills, develops their cognitive and problem-solving abilities, and enhances creativity by using their imagination.
Is it a reading nook? Reading exercises the brain, improves a child's ability to concentrate, teaches them about the world around them, improves their vocabulary and language skills, helps them develop empathy for others, and encourages children to use their imagination.
Is the main purpose of the room so tots have a softscape for climbing and crawling in complete safety? Soft play equipment was designed to develop gross motor skills like balance and coordination.
Is the space an arts and crafts room? Arts and crafts enhance the creative right side of a child's brain while also developing fine motor skills.
Research Your Options
Research is a great way to see what options are available to help you with your theme or themes. You don't need to be super-creative to design an amazing space. Our designers have the creative gene and built the products for you.
When you start browsing through our website, you will be amazed at the volume of "stuff" we have designed specifically for kids. For this reason, the Children's Factory puts together lifestyle videos and images where we display entire rooms to provide DIY'ers with ideas and inspiration. We have thousands of different products, so don't limit yourself to how we did it. If an individual piece speaks to you, and it fits your theme/themes, then maybe you need to incorporate it into your design.
One advantage of sticking with Children's Factory products and furniture is you can rely on the fact that all our products have been thoroughly tested for safety and for preserving indoor air quality. Buying from our family of brands will also ensure your room colors coordinate beautifully among the different product categories!
Now You Are Ready for Laying Out a Floorplan
Aren't you glad you didn't just jump right in before you were completely ready? After immersing yourself in the world of the Children's Factory family of brands and products, you probably have a few key pieces in mind. Start with those pieces and build around them.
Next Steps…
DIY Design Part 3 will go into more detail about the last major step in wrapping up your design. Stay tuned!
tags: