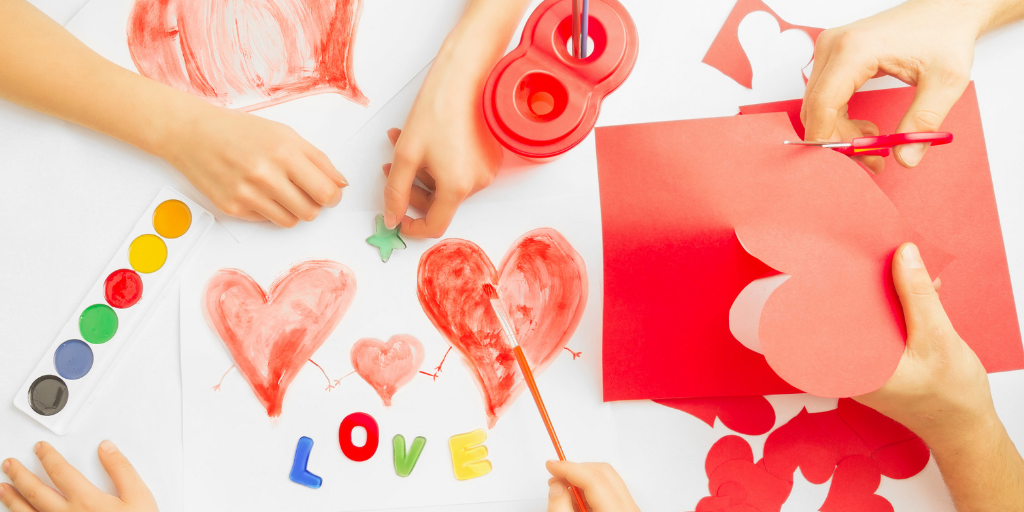 SHOWING LOVE THIS VALENTINE'S DAY
Even as parents, we sometimes need reminders to show our children that we love them and don't always necessarily need to be on their case about something. It's easy for us to get wrapped up in the day to day robotic activities of parenting. And in this busy world, we sometimes forget to show simple kindness to our children, our spouse or even our friends.  But then we remember that our children are learning from our behavior. (Yikes!)
So with Valentine's Day quickly approaching, it can be a great reminder to take a deep breath, slow down and show our children love and appreciation within the family.
Instead of giving candy this year, why not make Valentine's Day a family affair with your children? And if you are coming home from a long day at work, you can still make it a night to remember with just a little bit of preplanning with these simple ideas.
MAKE HEART SHAPED PIZZAS
Everyone loves pizza! So get in the kitchen with the kids and make homemade pizzas in the shape of hearts!
MAKE CHOCOLATE FONDUE
Follow up your fun meal with a chocolate fondue dessert with lots of fruits and graham crackers to dip with.  Take turns dipping your favorite food into the chocolate.
GIVE THEM A NEW BOOK WITH A HEART WRITTEN NOTE ON THE INSIDE
Now that your tummies are full, cozy up on the couch and give your child a new book. Add a simple written message from the heart inside the book that you can read together expressing your love for them.  Read together, give lots of hugs and show them how much you love them.  A perfect ending to a perfect day.
Whatever you do – have fun – take the pressure off to try and fit into the "norm of Valentine's Day". Relaxing quality time with you will be the greatest gift of all for your loved ones.    
tags: