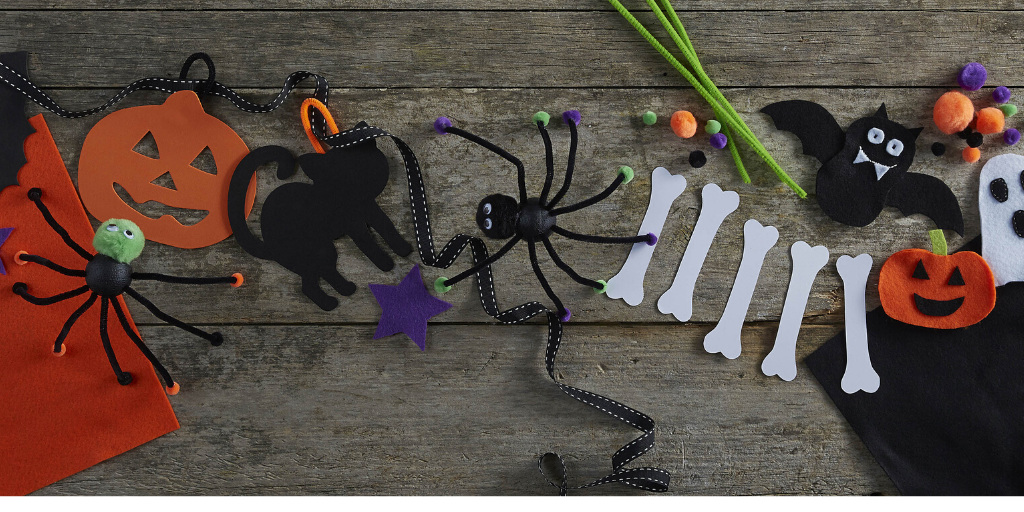 Kids love to do all kinds of artwork, which gives beneficial effects on their development. Cutting, painting, gluing … All this perfectly affects their fine motor skills, develops hand-eye coordination and creativity. Halloween is a great opportunity for creative fun during which children tame the primary fears associated with imaginary monsters. Children are often afraid of spiders, witches or ghosts. By doing colorful, funny and creative decorations with them in this subject, we present a cute picture of those scary things. It is also important to adapt the right decorations to the child's age.
Ideas for Halloween artwork:
1. Fluttering vampire from balloons – This menacing creature can turn silly and live in your home, hanging from the ceiling. Prepare it with your child from black balloons and cardboard.
2. Spiders – These little spiders are made of black plastic bottle caps. We can decorate the whole house with them while also taking the opportunity to talk to our child about recycling.
3. Mummy – Wrapping toilet paper roll with pieces of canvas or bandages, we will get a funny mummy that will decorate your home. Children will have a lot of fun helping to wrap the objects.
4. Halloween puppets – To make them we only need colorful paper and glue.
5. Bats and other creatures from disposable plates – The disposable plates are the base and from the colored paper or fabric you can cut out bat wings, cat ears, Frankenstein hair, teeth, spider legs, eyes, etc. and then stick it to the plate.
6. Stone monsters – A very easy idea, and how effective. All you need is lots of stones, paint, brush and moving glued eyes. Because it's so much fun, the monsters multiply very quickly. Paint the stones in the color of your choice and wait for them to dry. Then draw the mouths and stick on their eyes. You can create stone ghosts, skulls, pumpkins or funny monsters. Funny or a little scary, it all depends on the imagination.