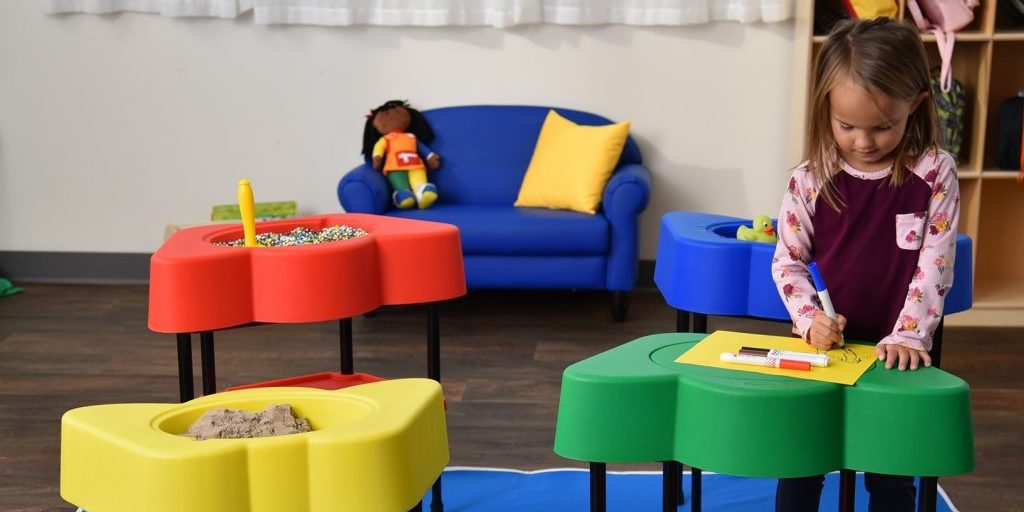 Social or Solo
Sensory play activities appeal to kids regardless of whether they are playing in groups or individually. For this reason, sensory tables have become a summer favorite for kids. Parents and caregivers, who find themselves tasked with filling kids' summer hours with fun activities, also love sensory play.
Angeles® Sensory Tables for kids are available in 4 bright colors to add visual interest to any playroom, outdoor patio, homeschool, or classroom. Purchase one color or collect all 4! Providing more than one table will encourage kids to invite classmates, friends, and neighbors to play in groups.
Group play helps kids acquire social and emotional skills, such as learning to solve disagreements with words, how to be more empathetic (as they learn to identify when a playmate is sad, hurting or confused), how to share (which is part of impulse control), etc.
Adjustable Height

Every parent has a limited budget. Tables can be used indoors and outdoors for fun all year long. Angeles® Sensory Tables feature adjustable steel bases with legs that extend from 18"H to 24"H. Tables basically grow with kids, which means they will be used for many years.
Multi-Functional

The included lid transforms the sensory table into a multi-functional workspace for arts & crafts, homework, puzzles, and more.
After sensory play, quickly cover the table with the lid to keep contents clean. Convenient lower shelf offers a place to store any additional accessories.
Stress Relief
Sensory tables provide kids with a stress-relieving activity designed to help them cope with the curve balls in life. Merging learning and play activities together is always our goal. There is no denying, Sensory Tables make learning fun!
Start with an Interesting Base
Sand and water is the classic sensory table staple. Why limit kids to sand and water? Every few days, you can pull out your child's sensory table and try something new! It's a surefire way to combat boredom. Diverse sensory experiences will always help kids with their growth and development process. So, think outside the box and use different bases.
Insta-Snow Powder – Surprise kids with a winter in the summer play day.
Kidfetti® Play Pellets – Kidfetti® floats which presents the perfect opportunity for parents, caregivers, and teachers to begin speaking to kids about STEM subjects.
Oatmeal* – Add oatmeal to your sensory table and if you want to make it bright and colorful, it's easy to add food coloring.
Bird Seed – When your children finish, the neighborhood birds will be glad to stop by and have a feast!
Rice or Quinoa*
Beans*
Noodles*
Artificial Grass (Easter Basket filling)
Popcorn Kernels* (unpopped or popped)
Shredded Paper (gift wrapping type)
Fall (dry) Leaves – Next fall, save some of your leaves for the following summer
Jelly Beans or Candy Corn*
Multi-colored Jell-O* – Watch it wiggle and see your kids begin to giggle.
Excellerations® Spectacular Sensory Sand™ – This colorful sand adds a new dimension to sand a water play.
Cotton Balls
Orbeez – These superabsorbent, colorful, polymer balls expand when submerged in water. Over the last few years, they have become a favorite with kids.
Tactile Additions
It's easy to create a variety of tactile experiences by adding different items to your base. Some favorites include:
Plastic Bugs or Rubber Snakes – It's easy to find these items at local stores for less than a few dollars.
Pretend Play Food – Won't kids be surprised when they pull some of their favorite pretend play kitchen items from a sandy bin? For example, a loaf of bread, hot dog, fruit, etc.
Pinecones – You might be able to acquire these free of charge at the local park or in your back yard!
Seashells – Collect some real seashells on your next vacation or purchase them online.
Puzzle Pieces – Make good use of an old puzzle. Throw them in the sand for kids to uncover.
Packing Peanuts – You are familiar with the peanuts you pack in a box to ensure gifts don't break during shipping. Kids will enjoy smashing and squeezing them for a terrific tactile play day. They also squeak to add an additional auditory perception experience.
Borrow poker chips for a fun sand and water accessory. Guess which color kids will find next!
Board Game Pieces – Throw some board game pieces into the sensory table for kids to discover. Monopoly, Checkers, Chess, Dice from your family's Yahtzee game, etc.
Cookie Cutters – Get some plastic cookie cutters with fun shapes so kids can watch the sand (or whatever base you are using) flow through the shape.
Beads or Buttons
Feathers
Marbles, Pebbles, or River Rock
Wood Blocks
Jingle Bells – Add an auditory element to sensory play by placing some small bells in the table.
Bathtub Toys – Tub toys make perfect sensory table toys.
Fine Motor Development
Kids can work on developing dexterity while engaging in sensory play activities. Ask them to use some tools while they play. For example:
Pretend Play Garden Tools – Think child-sized watering cans, handheld shovels, hoes, etc.
Chopsticks – Chopsticks will present a new challenge.
Kitchen Utensils – Everyday items like ice cream scoops and salad tongs easily double as sensory table accessories. They also give kids the opportunity to develop a new fine motor skill.
What's your child's favorite sensory table activity or accessory?
*SAFETY NOTE: Any food used for sensory play activities should be monitored closely and discarded immediately after playtime. Food should never be eaten from the sensory table or stored in the sensory table. Sensory tables are for children 3 years old and up.
References:
https://www.friendshipcircle.org/blog/2016/01/05/21-items-to-include-in-a-sensory-table/
https://www.dailymail.co.uk/femail/fb-8065977/What-Orbeez-tiny-balls-known-water-jellies-water-beads-water-gems.html
tags: