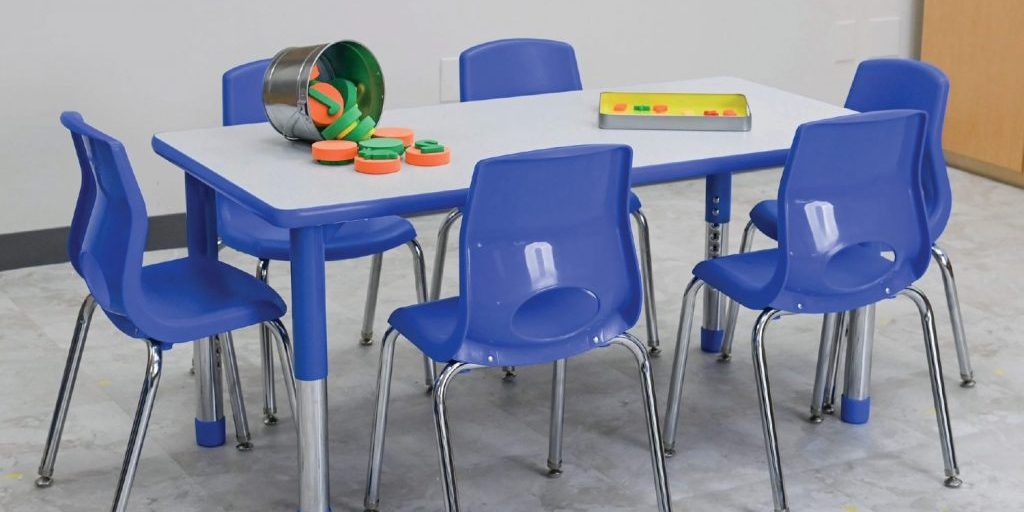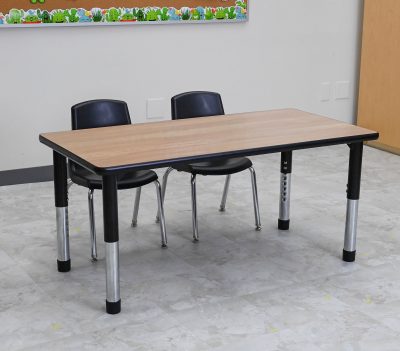 The number of children living in single-parent households has grown from approximately 8 million in 1970 to roughly 18.5 million in 2020. Additionally, 59.8% of married-couple families have both parents working full-time, which means they require care for their children in the form of daycare centers, preschools, Montessori schools, or free care from relatives and other caregivers.
With so many parents needing daycare for their children, many educators (and parents alike) might wonder, what trends in early learning sway parents to choose one facility over another? Do parents prioritize flare ahead of function or function ahead of flare? How do classroom tables fit into this equation?
The Flare Vs. Function Dilemma
No one wants to choose between flare and function. It's part of our natural desire to provide the best for our children. Research indicates a child's attention span and ability to focus both improve when their learning environment is engaging. The flare is incredibly important if we want to encourage kids to participate in classroom activities without getting bored.
Yet, we cannot sacrifice function in the name of providing a modern, leading edge classroom environment. The function must remain a primary focus. One example, to illustrate the critical nature of function, is safety. To keep classroom safety standards in place, we must continue to adhere to school furniture safety regulations and standards. GREENGUARD Gold Certifications would be an example of how we accomplish this goal. This certification ensures furniture adheres to the low levels of chemical emissions, so indoor air quality is healthy and safe for children.
As We Grow™ Classroom Tables Add Flare Without Sacrificing Function
Angeles® recently launched a new line of As We Grow™ Adjustable Height Tables for toddlers and kids. Some of these tables have part chrome-plated, part powder-coated steel legs designed to lend a leading edge, motorcycle or hot rod-type vibe to any modern daycare, preschool, middle school, or homeschool.
Schools in the past focused on color, and often ended up overwhelming kids with too many patterns mixed with too many colors. Today's schools realize the goal is to provide kids with just the right amount of shine, pattern, and color. It's essential teachers and schools recognize what constitutes the right amount.
Getting this equation wrong can throw kids into a state of sensory overload, which potentially impacts learning in a negative way. Learn more about how classroom design can affect learning. As We Grow™ Tables have the Goldilocks effect in terms of providing just the right amount of color and shine.
Comfy for Kids 2-12 Years Old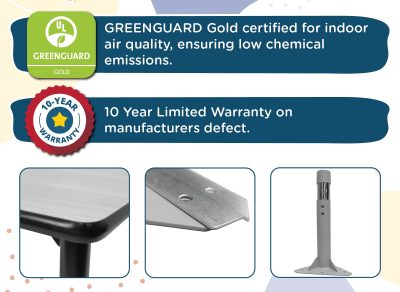 A "1 size fits most" mentality isn't the road to universal comfort when the world is filled with toddlers and kids of all different sizes. As We Grow™ Tables feature legs that adjust in 1″ increments. With 7 settings, from 16-22″H, teachers will have plenty of options to accommodate the smallest to the tallest child in the classroom. Every learning environment should offer a myriad of options so children can choose where they are most comfortable.
Versatile, Dry-Erase Tabletops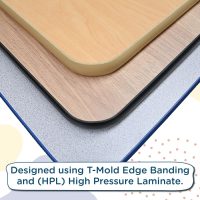 Many classrooms struggle to keep tabletops clean. As We Grow™ Tables feature dry-erase tabletops which provide an ideal surface for taking notes individually, brainstorming when collaborating, and posting reminders for special events or homework assignments.
Want to promote right brain, creative learning with fun art projects? These tables can be used for art projects without the need for construction paper or easels. Tables wipe clean in seconds, which makes it simple to pivot from one activity to the next.
T-Molded, Waterproof Edge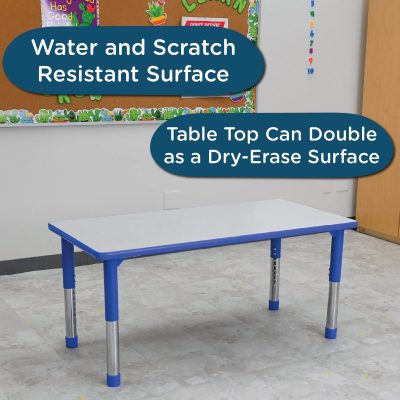 Durability is always a priority when budgeting for new furniture. As We Grow™ Tables feature a High Pressure Laminate (HPL) top designed to endure daily wear and tear. A t-molded, waterproof edge makes tables easy to clean and adds to their longevity. For those not familiar with a t-mold, the PVC edge is molded into the table in the shape of a "t" to keep the plastic from delaminating. (See illustration.) It also functions to protect the table from daily cleaning and sanitizing.
References:
https://www.statista.com/statistics/252847/number-of-children-living-with-a-single-mother-or-single-father/
https://www.bls.gov/news.release/pdf/famee.pdf
https://childrenswi.org/medical-care/adolescent-health-and-medicine/issues-and-concerns/adolescent-growth-and-development/normal-growth
tags: