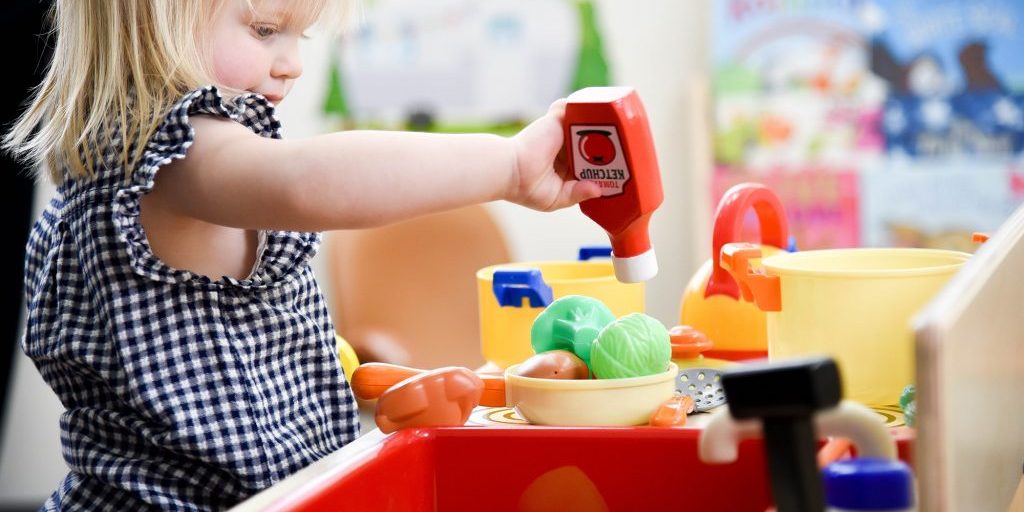 A Recipe for Raising Healthier Children
March is National Nutrition Month. It provides a perfect opportunity for parents and teachers to begin training children about the importance of nutrition and health. The Academy of Nutrition and Dietetics has an amazingly comprehensive toolkit designed to equip you with games, activities, as well as downloads for dozens of food tips and recipes. They dive into topics like celebrating different cultures through flavor, how to reduce food waste, how to eat with less salt, how to eat with less added sugars, 20 ways to enjoy more fruits and veggies, healthy eating on the run, etc. It's likely adults will learn as much from their resources as kids!
Nutrition and Dramatic Play Merge Learning and Fun

Little ones enjoy dressing up for Halloween, 100th Day of School, Cinco de Mayo and for any other day we conceptualize for them. Every month is filled with fun food days worthy of celebration. National Cookie Days might not teach kids about healthy eating, but it can be used to discuss healthy alternatives. There is a reason we have sayings like, "An apple a day keeps the doctor away." Kids might note the saying isn't, "A cookie a day keeps the doctor away!" March 6th is National Dentist's Day, which means nutrition and visiting the dentist regularly can be wrapped up into one month of learning and fun activities.
Here is a list of National Days for food in the month of March:
March 1
Peanut Butter Lovers' Day
March 6
Dentist's Day
National Frozen Food Day
National Oreo Cookie Day
March 7
National Cereal Day
National Crown Roast of Pork Day
March 10
Popcorn Lover's Day – second Thursday
March 14
March 17
Corned Beef and Cabbage Day
March 19
March 23
March 24
National Cheesesteak Day
National Chocolate Covered Raisin Day
March 25
March 26
March 31
National Clam on the Half Shell Day
Dramatic Play Themes Make It Simple
National food days can also be used as a dress up day for kids to prepare a costume to represent their favorite food or any food group the teacher designates. Maybe each child can dress up as different fruit? Or half the group as bees and the other as bears in a joint effort to educate the group about the importance of bees while still focusing on the fun. Bees pollinate plants and are pivotal to our environment. Studies indicate they are dwindling in numbers. Therefore, beekeepers (also called honey farmers, apiarists, or less commonly, apiculturists) are needed to cultivate new beehives and to keep the bee population healthy.
Visit a bee farm for a fun field trip! August 20th is National Honeybee Day.
Kitchen Sets Enhance Dramatic Play
Kitchen sets allow kids to dive into dramatic play activities revolving around food. Kids love to dress up as wait staff and chefs or act like their own parents while pretending to cook dinner. Don't structure this dramatic play time too much. Let children use their imaginations to direct the play experience. You might be surprised how they work as a team to take orders and prepare food. Some children might decide to play by themselves, which is perfectly acceptable. Others will play right next to each other without engaging in group or collective play. Every child needs to experience all the stages of play at their own pace to develop the skills needed in life. It's beneficial for children in early stages to watch other children who have progressed to more advanced stages like cooperative play. To learn more, read "How to Move Kids Through the Stages of Play".
Nutrition & Sensory Play
Allowing kids to taste different kinds of foods is a sensory experience they won't forget. Every child will love Oreo Cookie, Popcorn Lover's, Potato Chip and Chocolate Covered Raisin Day, but will they also love Spinach Day or Corned Beef and Cabbage Day? Will they love National Clam on the Half Shell Day? Each focus food provides a different sensory experience. Food also offers teachers and parents the opportunity to enhance their child's vocabulary. Make sure to create visual lists of descriptive words for each food as children are tasting them. Visual learners might not pick up on vocabulary words if they are just spoken. Ask kids to compare foods for similar and different qualities.
Celebrating a World of Flavors
National Nutrition Month's 2022 theme is "Celebrate a World of Flavors". It's a way to embrace global cultures and cuisines while creating an inclusive environment in classrooms, homes, and workplaces. Partner this theme with dramatic play to merge fun with learning. Kids can dress up in Hispanic outfits and bring some Mexican dishes to school with them for a potluck. Dress up in Chinese outfits and bring Chinese food. The options are endless. The idea is to have all participate and appreciate the unique qualities found in food in every culture.
Feeding Chairs & Nutrition
Our feeding chairs provide everything infants and toddlers need to sit and partake in a small snack with older children for Nutrition Month Events. These chairs feature removable Rubbermaid® Microban® trays. Designed to resist bacterial growth, these trays are easy to clean and disinfect. Chairs have a stable, broad base and seat belts to ensure safety. Available in 5 sizes, trays are also perfect for arts and crafts activities.
Launching Kids in the Right Direction
Whether your kids are toddlers, preschoolers, in middle school or in high school, learning about nutrition is fun and serves an important purpose. Knowing how to use food as fuel launches kids in the right direction. If helping people live healthier lives is the goal, then National Nutrition Month is doing a superb job educating, not just children, but educators and parents at the same time.
References:
https://www.eatright.org/food/resources/national-nutrition-month/toolkit
tags: