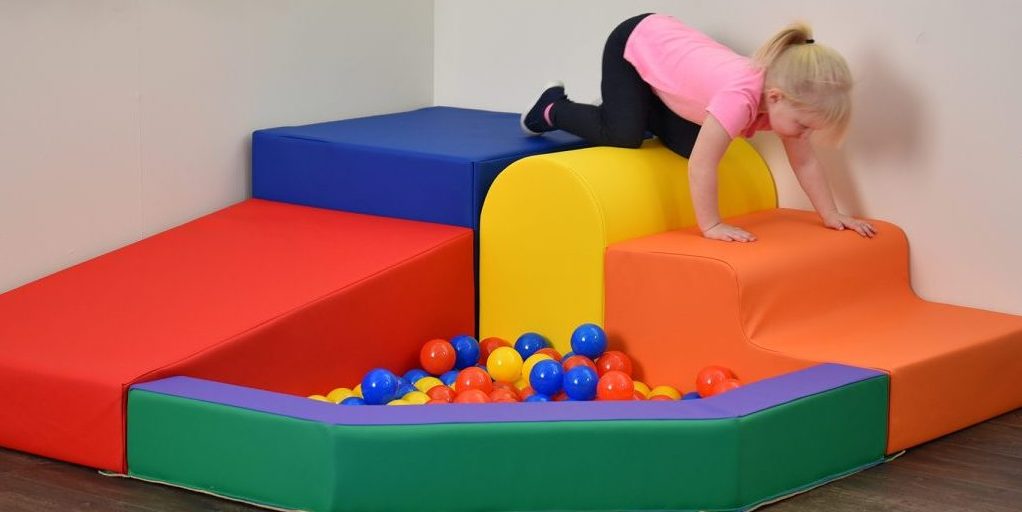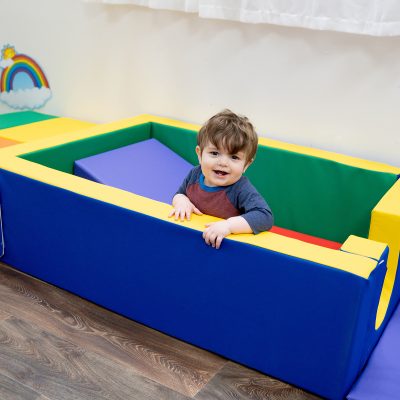 Have you ever noticed when you play a sport or engage in any activity with someone who is slightly more skilled, it often stimulates and motivates you to up your game? This principle is universal and applies to people of all ages and skill levels. Learning from others is a valuable part of growing and contributing to society in a positive way. Babies and toddlers advance through 6 main stages of play development as they grow from newborns into toddlers and beyond:
Unoccupied

Solitary (Birth to 2 years)

Spectator/Onlooker Behavior (2 years)

Parallel (2+ years)

Associate (3-4 years)

Cooperative (4+ years)
Skipping over the first stage, we will focus on stages 2-6.
Stages of Play: #2 Solitary Play
Solitary play is also referred to as independent play. Parents are usually relieved to see their children begin playing by themselves. It means the child is not 100% reliant on the parents to entertain them anymore. In this stage, children begin to use their imaginations and create their own worlds for fun play experiences but have not yet begun to play with other children.
Stages of Play: #3 Spectator Behavior & #4 Parallel Play

Spectator Behavior is self-explanatory. Toddlers who watch other kids playing, but are not actually participating, fit in this category. It's slightly different than Parallel Play. In this stage, toddlers play next to each other, but don't interact. These are both normal behaviors. Choosing not to engage with their peers, but rather, to merely watch or play in their own little world might seem odd to parents, but it's a normal part of a child's growth and development.
Children, who appear not to notice what their neighbors are doing, often are covertly watching and learning. Just like when littles imitate their parents, the same routine occurs when many children play in the same vicinity. Tikes will learn new ways to stack blocks, play with toy cars, jump on climbers, etc. They might even learn new vocabulary words during the process!
In these stages of development, littles are literally on sensory overload as they experience the world around them. They have not graduated to the level where other kids are identified as potential playmates who could increase the fun meter during playtime. It has not crossed their minds to incorporate other tikes into their imaginary world of play.
Stages of Play: #5 How to Encourage Associate Play & #6 Cooperative Play

In these stages, little ones are either just beginning to interact with others during play (Associate) or fully incorporating other children into their play scenarios (Cooperative). In either stage, a lot of learning occurs between children. These are the first stages where littles begin to socialize, share, cooperate, and form friendships.
Play yards, ball pools and climbers are perfect for encouraging toddlers to interact in a soft, safe, play environment. Children's Factory offers a variety of options for encouraging kiddos to progress to the Associate and Cooperative Play stages. They also provide the right atmosphere for some kids to hang back in the Spectator Behavior or Parallel Play modes until they are ready to move forward.
Ball Pools
Ball pools come in different sizes appropriate for 1-2 kids or as many as 5-6 to play together. The sensory stimulation from the polyethylene balls is positive for cognitive development. Fine motor skills are used as little ones grasp and pinch the balls. Corral Ball Pool (CF331-031) and the Mini Nest Ball Pool (CF331-334) are perfect for smaller numbers.
Play Yards
Turtle Hollow (CF322-179) is great for 1-2 children while the Lollipop Play Yard (CF322-219) can easily hold 5-6 children. Play yards are versatile. Toddlers and preschool age children can play together in a soft, safe environment with any number of toys to make each day unique. (Toys not included.)
Climber & Ball Pool
The Medieval Kingdom Climber (CF322-228) offers a pretend play experience for littles to work on gross and fine motor skills while imagining they are knights and princesses.
Mikayla's Mini Mountain (CF321-938) is a corner climber and ball pool combo where the name pretty much sums up the play set. It truly is a mini mountain for serious climbing adventures.
Play Yard & Climber Combos
Lily Pad Lane (CF321-323) and the Adventure Center (CF805-305) offer a full an extended play area for tikes of all ages to hang out and socialize, climb, or share a snack.
The Playring with Tunnel & Slide (CF322-162) incorporates sensory elements, such as squeakers, a bell, a mirror and loops for add-ons to stimulate cognitive and visual perception development and well as fine and gross motor learning.
The Biggest Challenge
Usually, deciding which play set to purchase is the hardest part of the process! Some things to take into consideration:
What size area do you have to work with?
Some play sets are designed to fit in the corner of a room against two walls or against one wall. (Ex. Mikayla's Mini Mountain (CF321-938) must be placed in a corner against two walls for safety. Lily Pad Lane (CF321-323) and the Adventure Center (CF805-305) should be placed against one wall for safe use.)
How many kids do you think will be playing together?
Some sets were designed for 1-2 kids and others for a bigger group.
Will the kids be of the same age or varying ages? If they are of varying ages, a ball pool or play set with a ball pool might be a good choice.
Do you want some sensory elements to be incorporated into the experience?
Ball pools provide a fun sensory experience
The Playring with Tunnel & Slide (CF322-162) provides a wider variety of sensory elements
Which one is your favorite?
tags: