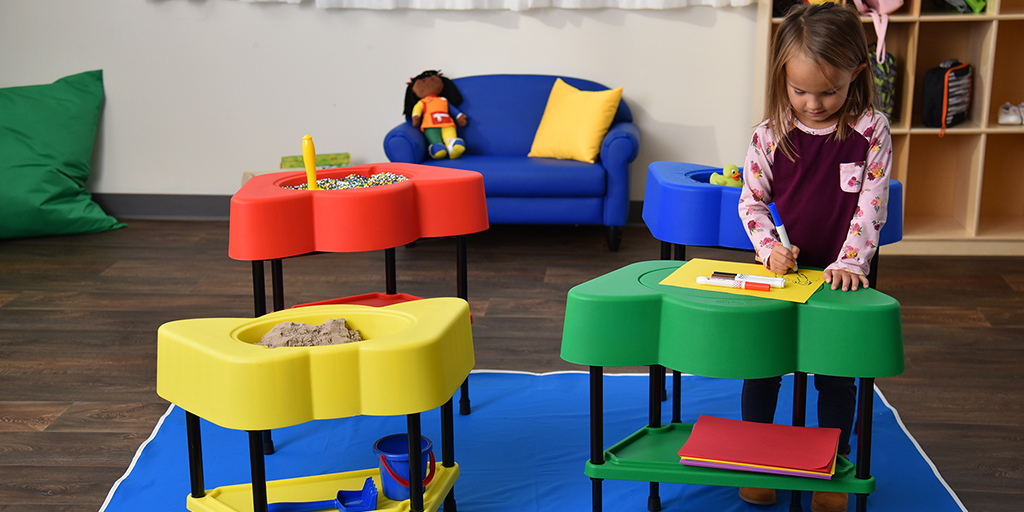 Every child can benefit from sensory play activities. It stimulates the brain and builds neural pathways that improve sensory processing systems. Many sensory activities are also used to encourage social play and pretend play. Engaging 2-3 of your child's senses during any one activity is usually considered a job well done. Yet, when pondering the 5 senses, one is apt to question, "Is it feasible to engage all 5 senses during one activity?" The answer is maybe. It's more difficult than you might think! Let's take a closer look at 9 examples.
Sensory Table Play with Colorful Gelatin. Sensory play ideas abound. One stand-out choice is rainbow-colored gelatin. Kids can eat the gelatin which adds taste to the list of senses engaged. If you make the gelatin with Kool-Aid, then each color gelatin will have a specific smell. The rainbow colors from the gelatin add the fun visual experience we want for our kids. Overall, CF gives multi-colored gelatin 4 Stars for captivating 4 senses: sight, taste, touch, and smell.
Make a Sandpaper Sun. This sensory experience requires minimal investment. In fact, everything you need might be in your husband's toolbox and in the playroom already. Your list of materials is sandpaper, paint, glue, construction paper, and scissors. Pre-cut the sandpaper into circles for the sun and triangles for the sunbeams. When starting this painting project, kids are usually apt to either love or hate the feel of the sandpaper on their fingers and nails. Have them use their fingers and paintbrushes for this project. When painting the sandpaper, the paintbrushes will make an interesting noise on the sandpaper. Don't let kids miss one of the key elements to this activity by just using their fingers and no paintbrushes. After youngsters are done painting the sun, then it will be time to paint a background on a sheet of construction paper. Use the glue to paste the circular sun and the triangular rays onto the background. This activity engages the eyes with color, touch with the sandpaper and finger-painting, hearing with the brushes on the sandpaper, smell potentially from the glue but falls short of incorporating taste. 4 Stars.
Shaving Cream Puffy Paint. All you need for a fun St. Patrick's Day activity is plain shaving cream, dark green paint, something to stir with, plain white glue, a marker, scissors and heavy construction paper. Draw a shamrock on the construction paper. Mix the shaving cream, glue, and paint. For every 1 cup of shaving cream, use ¼ cup glue. Add paint until you achieve the shade of green you desire. When mixed, then it's time to get started puffy painting! Have children spread and squish the puffy paint onto the construction paper. Don't worry if kids don't stick to the shamrock shape. After drying for 24 hours, cut the shamrock shape out of the paper and the project is finished. Again, you engaged sight with color, smell with shaving cream, feel with the puffy finger painting. Hearing and taste were left out of this activity. CF gives this activity 3 Stars.
Paint Easter Egg Waffles. All you need to transform breakfast into a fun sensory experience is lightly pre-toasted waffles, milk, food coloring, a paintbrush, and an Easter egg-shaped cookie cutter. Cut the lightly toasted waffles into the shape of eggs with your cookie cutter. Mix a little food coloring with milk. Now it's time for your child to paint the waffles like Easter eggs. Re-toast the waffles and breakfast is ready. Sight was engaged with color, smell, and taste with food, and texture to the waffles paired with the use of paintbrushes gives this activity some tactile elements. 4 Stars since sound was left out.
Box Sound Activity. This activity might be the ticket when it comes to incorporating sound into your sensory play. Get about 7-8 different boxes with lids of various sizes but that have a similar look and feel to them. First, use the boxes to play a shape recognition and problem-solving game. Space out the boxes and their lids so kids don't readily recognize which lid goes with which box. (This is why you want the boxes to all look and feel the same. If one box is red and one is green, then they will automatically know which lid and box match.) Ask kids to find the right lid for each box. Afterward, place an item inside each box while they are not looking. Give them the list of items in the boxes. Possibly a pencil, a pompom, a crayon, a walnut, a crumpled piece of paper, etc. Ask kids to try to identify the contents of each box based on how it sounds when they shake it or how heavy it is, etc. (Remember, children should always be monitored when small objects are present since they can be a choking hazard.) This activity covered sight, sound, touch, but didn't appeal to smell or taste. 3 Stars.
Create a Sound Safari! Design a simple chart with a list of images partnered with the sounds they make. For example, a firetruck image is partnered with the word "Sirens" or some curly cues in the air are partnered with the word "Wind". A dog image is partnered with the word "Bark", an image of a garage door with the word "Grr, Grr". The telephone can have "Ring, Ring", the cat "Meow", a bird "Chirp", car horn "Beep", etc. Use a different color marking pen for each image and sound. As your day progresses and your tot identifies a new sound, give him/her a star next to that image on your chart. Sight and sound are engaged. 2 Stars.
Kidfetti® Play Pellets. Kidfetti® is a Children's Factory favorite. It's colorful and elevates a child's sense of touch by giving it a new dimension. Did I mention it's washable and reusable? Made from polypropylene pellets, this product is only appropriate for children 3 years and older.
Finger Paint with Scented Paint. Just add imitation flavors to finger paints in a bowl and mix. You will have colors to engage the eyes, scent to engage the nose, and touch with finger painting. This activity is simple but enjoyable. 3 Stars.
Yogurt Painting. Gather your materials, including plain yogurt, food coloring, multiple small bowls, and cookie sheets or plain plates. You can also affect the color of the yogurt by adding jelly. Grape jelly, strawberry, orange marmalade, and more can affect the smell as well as the color. Youngsters will have fun mixing the food coloring with the yogurt to achieve different colors. For example, more red food coloring will make it red and less will make it pink. After mixing, let tots write their names or draw pictures on the cookie sheets or plates. Kids will most likely want to try some of the yogurts which is why jelly is a good way to go. Plain yogurt is not as tasty as yogurt with fruit flavors! 4 Stars for touch, taste, sight, and smell.
The Elusive 5th Star
You can add sound to almost any sensory play experience lacking this sense by cueing kids when to begin and when to finish play sessions with bells, a horn (or any musical instrument), an alarm, or music. Therefore, many of these 9 activities can easily be given an extra star for sound.
Multi-Functional Activities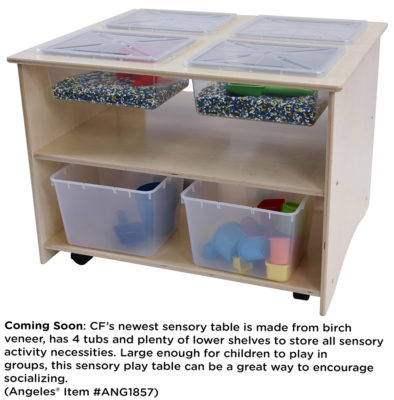 You may or may not have noticed many of these activities are not just multi-functional due to engaging multiple senses simultaneously. Sensory activities with art projects woven into the experience also stimulate the creative, right side of a child's brain. Similarly, pretend play incorporated into sensory play accomplishes the same task. Whether parents, teachers, or caregivers put these activities to the test, children will benefit. All activities listed require the close supervision of an adult. Additionally, the age-appropriateness of the supplies must be approved by the parent/caregiver.
What's your favorite sensory play activity? Children's Factory would love for you to share.
tags: