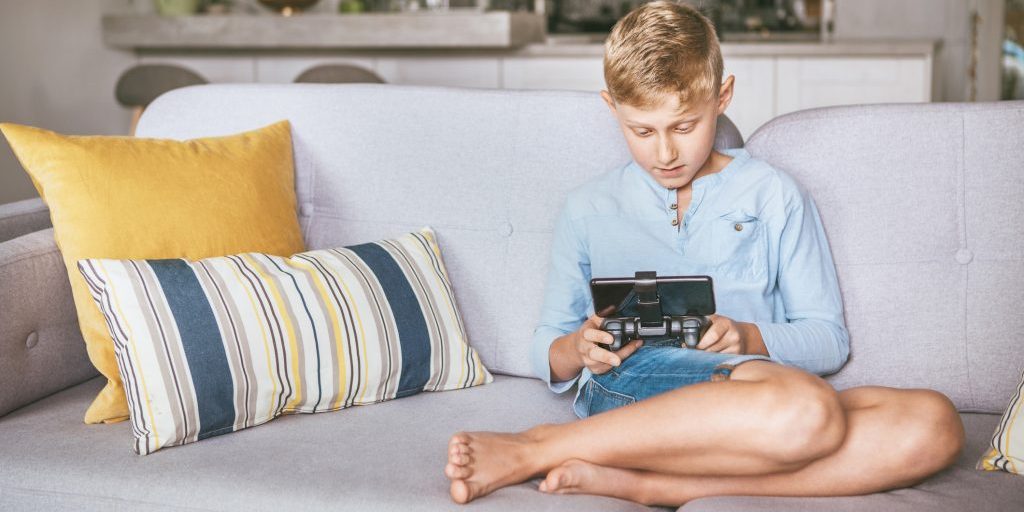 Everyone loves to shop during the holidays. Black Friday after Thanksgiving is now followed by Cyber Monday as a response to America's growing inclination to shop online. Whether we are shopping online, live streaming our favorite television shows, or just "Googling" information, Americans of all ages spend a lot of time using computers and the internet.
Even toddlers are spending a considerable amount of time on computers, tablets, and smartphones. Research reveals somewhat contradictory statistics for kids under 8 years old. Some sources show:
Toddlers spend around 1 – 3 hours a day on a screen, depending on what parents allow
Children from ages 4 – 7 spend around 4 hours a day on devices
Oh, the Difference 9 Years Makes
A report titled "Common Sense Census 2017: Media Use by Kids Age Zero to Eight" was conducted by Common Sense. Their findings have illuminated the considerable increase in screen time over just the last 9 years. The report found that among families with children 8 and younger:
98% of homes have a mobile device compared to 75% in 2013 and 52% in 2011.
78% have a tablet, up from 41% in 2013 and 8% in 2011.
The independent use of technology has also changed for young children – 42% of children ages 8 and younger have their own tablet device. This is an increase from 7% in 2013 and 1% in 2011.
There is no denying computers and the internet have fundamentally changed our society over the last 25 years. The American Academy of Pediatrics recommends parents follow their guidelines when it comes to limiting screen time for children. They recommend:
Parents should avoid screen time for children under 18 months. (That's zero screen time!)
For children 18 to 24 months old, pediatricians recommend parents watch (or play) with children so they understand the content.
For children ages 2 to 5 years, screen use should be limited to one hour of high-quality programs per day.
For children ages 6 and older, time limits should be set and remain consistent.
Many parents don't realize these guidelines exist. Therefore, there is a strong chance they are allowing their kids more screen time than what experts recommend.
How to Stop Your Child from Developing "Tech Neck"
Holding a phone at eye level, taking a lot of breaks, and reducing screen time are recommended ways to reduce neck pain resulting from texting and other types of phone use.
Surgical Technology International published the following after conducting a study in 2014, "When you're looking straight ahead with your arms at your side, about 10 to 12 pounds of pressure is exerted on the neck. Look down 15 degrees and that number jumps to 27 pounds. At 30 degrees, it's 40 pounds; at 45 degrees, it's 49 pounds; and at 60 degrees, it's a whopping 60 pounds. Considering most of us bend our necks between 20 and 45 degrees when we're using our phones, that's a lot of undue stress on the spine."
In an article by Good Housekeeping by Caroline Picard, Cordelia Carter, M.D., pediatric orthopedic surgeon, and director of the Pediatric Sports Medicine Center at Hassenfeld Children's Hospital enumerates how kids have worse posture today compared to any other generation. She says, "Life used to be sports to kids and now life is sitting down and texting. It's a double hit. It's an activity they're choosing to do and the opportunity cost of what they're not getting to do." The long-term ramifications of using technology too much, and exercising too little, are yet to be determined.
What Does All This Mean?
Most daycare facilities, Montessori schools, and preschools are providing technology in the form of tablets for youngsters to use throughout the day. Understanding technology can certainly benefit America's youth. Over the last 10 years, the school system has largely gotten away from using physical textbooks and provides students with computers loaded with the resources necessary for kids to complete their assignments.
Tech tables are widely used by commercial daycares and preschools to ensure tablets are secured which reduces accidents and broken devices. They also keep youngsters from looking down too much, which can cause a lot of neck pain.
One thing tech tables don't monitor is screen time. Caregivers and parents need to be responsible for limiting screen time. Do parents have any say in screen time for their child when he/she is spending time at a daycare or preschool? Never hesitate to inquire about the screen-time policy at your child's facility to ensure it meets your expectations.
When managing your child's time at home, even parents who lack tech skills can easily learn to set up controls. For example, if you want your child's phone or device to be locked at 9 pm so they don't stay up till 3 am socializing on social media – that's an option. You can limit time on apps and more.
The Last Word
To inspire kids to take a break, think outside the box. Maybe you turn on some music and encourage your kids to dance with you for 15 minutes. Go on a walk or pull out some mats for a yoga session. Show your kids some stretching exercises. Remember, kids look to you for the answers to life's questions, so don't squander any opportunities to lead by example.
tags: