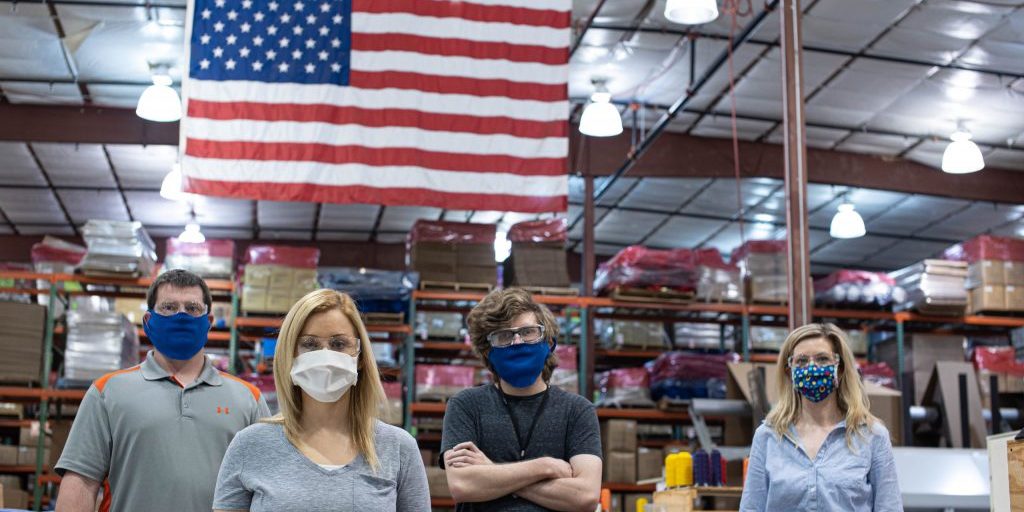 As classrooms prepare to reopen, Children's Factory® would like to help create a plan for implementing the appropriate cleaning measures to protect your kids while preserving the longevity of your classroom equipment and furnishings.
We recommend using a 1:5 bleach and water solution to disinfect many of our products (1:5 = 1-part bleach for every 5 parts water.) and suggest you implement a 2-step cleaning process for the best results.
Step #1 – wipe products with your bleach/water solution.
Step #2 – wipe off the chemicals with a clean, damp cloth.
Step #2 is a pivotal step if preserving the quality and durability of your classroom equipment. For example, children adore playing on soft foam climbers and playsets. Using a bleach solution is safe as long your staff wipes off the chemicals with a clean, damp cloth. When the bleach solution is left on the cover material, vibrancy and softness may degrade and has the potential to become stiff and to crack. Step #2 is also essential for the health and safety of your kids. When chemicals are not wiped off the surfaces of your equipment and furnishings, then kids will be exposed to those chemicals.
Make sure you wear gloves and don't mix bleach with ammonia as the combination is toxic. The bleach solution should be used within 24 hours as it loses effectiveness with time.
Wipes VS. Bleach:Water Solutions
The truth is, disinfecting wipes are not necessary for routine cleaning. And when they are actually needed – cleaning up after a sick kid– they don't work unless you use them properly.
While cleaning removes germs from a surface, disinfecting kills them by using antimicrobial pesticides, such as quaternary ammonium compounds or "quats." The EPA has done studies to show that those chemicals can trigger asthma, allergies, and other health concerns.
When using wipes, make sure you only use them on one surface and then dispose of them. So, don't grab a wipe and clean off the doorknobs, handles, and something else with the same wipe. Reusing a single wipe could have you just spreading germs from one surface to another.
Fighting The Good Fight
For decades, our family of brands has been manufacturing products specifically designed to reduce the spread of bacteria and germs. Our rest mats are a perfect example. Many of our mats employ a radio-frequency technology to create waterproof seals between foam sections and around all exterior edges to provide protection from liquid and bacteria contamination.
Sometimes we partner with other companies to utilize the best technology. Angeles's Feeding Chairs come in 5"-11" H options and feature a removable Rubbermaid® Microban® tray which reduces the potential for bacterial growth on the tray.
Social Distancing
The term "Social Distancing" has quickly become a part of our vocabulary. Many of our products allow kids to remain engaged while allowing safe distances at the same time. If you don't use carpet squares in your classroom already, now might be a time to consider investing in a set. You could even try our Cozy Reading Cube. Keeping kids 6 ft. apart is not an easy task but we are here to help.
For added comfort, floor cushions & loungers in various thicknesses and colors might be a great option with the same social distancing advantage.
Tips For Cleaning Birch & Melamine Wood Furniture
Our customers view furniture as an investment. We suggest a similar sterilization technique:
  Step #1: Use 5:1 water to bleach solution to sterilize your furniture.
  Step #2: Wipe chemicals off furniture with a damp cloth.
  Step #3: Dry surface with a dry cloth.
Step #3 is critical when it comes to preserving your wood furniture. We recommend our customers never leave standing water or liquid on wood surfaces.
Specific Recommendations By Product Category
To review our specific recommendations by category please visit our Cleaning Instructions page.
YOU ARE ESSENTIAL! Children's Factory® appreciates the hard work and extra care you are taking as you prepare to reopen.
tags: