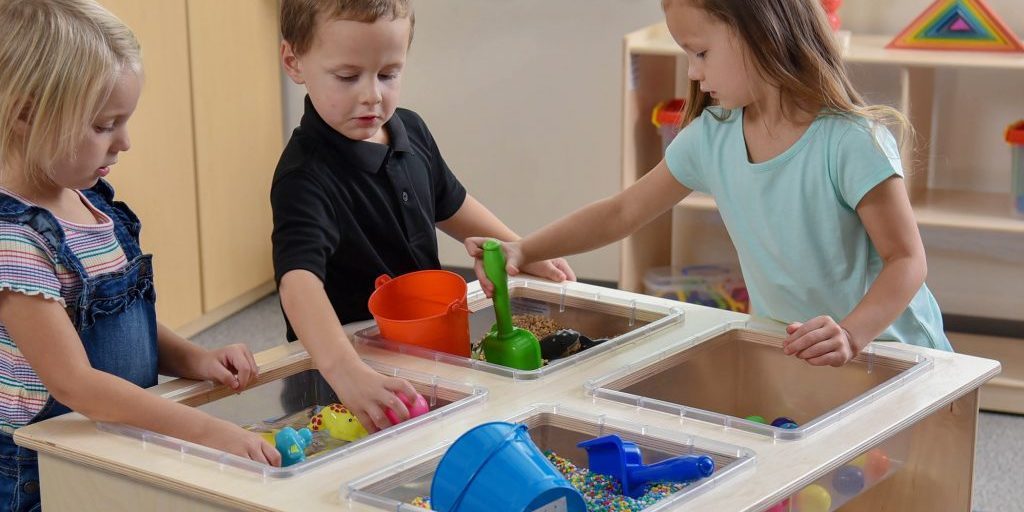 Sand & Water Play
A child's desire to build an understanding of their world, gradually grows through exercising his or her own freedom to play. Sand and water play allows children to take this freedom and test their own theories while stretching their sensory experiences.
Sand Play
The physical development of sand play includes large muscle skills as children learn how to dig, pour, sift, and scoop. It also includes eye-hand coordination and small muscle control as they learn how to handle the sand toy accessories. Children's Factory "Kidfetti" is a clean alternative to sand and can be washed as needed. The plastic play pellets are perfect for both indoor and outdoor use providing tactile stimulation and hours of fun.
Water Play
Water play is yet another way to develop motor skills such as using their arm and hand muscles to pour water from one container to the next. Children also learn how water leaks through other objects and whether or not certain objects float or sink.
Combine these great interactive tools with one of the Children's Factory Sand and Water Tables and you have a win-win teaching tool for all. When children work together at the sand and water table they are faced with real situations that require sharing, compromising and other social skills that are needed for healthy development among their peers.
The sand and water table can also be used for early lessons in mathematics. Children can use measuring spoons and cups of different sizes to gain an understanding of measurement. Other challenges can include asking children to estimate how many scoops of sand or cups of water it takes to fill up an object.
So stretch that imagination with this fun and exciting Children's Factory product. Your child will have the opportunity for continued growth and development as they explore their pathway to a successful and happy childhood.
tags: