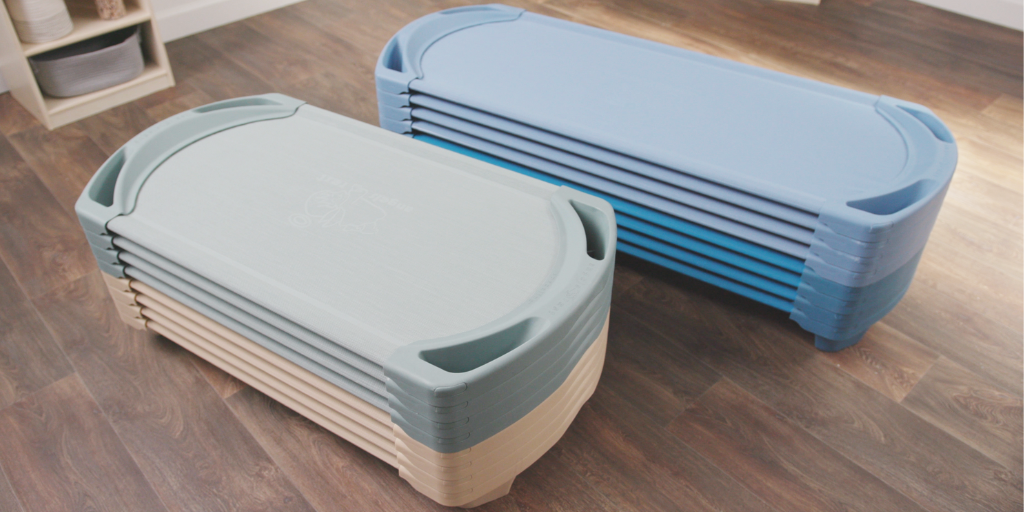 Welcome, dear parents and teachers, to an enlightening guide on selecting the perfect cot for your child's nap time! At Children's Factory®, we prioritize providing a sleep environment that ensures both comfort and safety. In this post, we will explore the remarkable features and benefits of our exceptional range of cots. Now, let's get ready to discover the ideal fit for your little one!
Angeles® SpaceLine® Cots – Ensuring Total Comfort and Safety
Prepare for a nap time experience like no other! Our SpaceLine® cots have been thoughtfully designed with total heat-sealed edges, guaranteeing a neat and secure finish. Say goodbye to concerns about little hands or feet getting caught, as we have effectively eliminated gaps between the mesh and legs. Moreover, cleaning these cots becomes a breeze, thanks to the use of bleach-cleanable fabric. Additionally, these cots come fully assembled, saving you time and providing instant nap-time convenience! Get ready to maximize your available space while ensuring the utmost comfort and safety for the little ones.

Children's Factory® Cots – Emphasizing Durability and Longevity
Now, let's discover our Children's Factory® cots, crafted with exceptional durability and longevity in mind! These cots are built to withstand the test of time. We use radio frequency welding to heat-seal the seams, ensuring a strong and tear-resistant construction. The one-piece frame ends feature molded-in ribs, providing added strength and preventing cracks or fractures. Similar our SpaceLine® cots, cleaning is effortless with the use of bleach-cleanable fabric. Furthermore, Children's Factory® cots come fully assembled, ensuring they are ready for immediate use.

Value Line™ Cots – Delivering Versatility and Convenience
For those seeking the utmost versatility and convenience, experience our Value Line™ cots! These cots offer a range of adjustable features to cater to your preferences. With heat-sealed mesh, including hook and loop closures and super-grip closures, you have the flexibility to achieve the perfect tautness. Safety remains our top priority, and you can rest assured there are no gaps between the mesh and legs. Cleaning is a breeze, thanks to the use of bleach-cleanable fabric. Additionally, you can choose between fully assembled or unassembled options, tailoring the cot to your specific needs.

Size Options – Customized Comfort for Every Child
We understand the uniqueness of each child, and their comfort is paramount to us. That's why our cots are available in two sizes: Toddler and Standard. Whether your child prefers a cozy, snug space or desires room to stretch out, we have the perfect size to accommodate their needs. After all, a well-rested child is a happy child!
Perfectly Sized Blankets and Sheets
Complete your child's cozy nap time experience with our perfectly sized blankets and sheets. Specifically designed to fit our cots, these provide an extra layer of comfort and warmth. Our high-quality materials are soft, durable, and easy to clean, ensuring a hygienic and cozy environment for your child to rest.
We hope this guide has provided valuable insights into the impressive features and benefits of our cots. When choosing the ideal cot for your child, consider the total comfort and safety offered by our Angeles® SpaceLine® cots, the versatility and convenience of our Value Line™ cots, and the durability and longevity of our Children's Factory® cots. With options for both fully assembled and unassembled cots, as well as different size choices, you can find the perfect fit for your child's nap time needs. Rest easy knowing that Children's Factory® designs cots with your child's comfort and safety in mind.
tags: