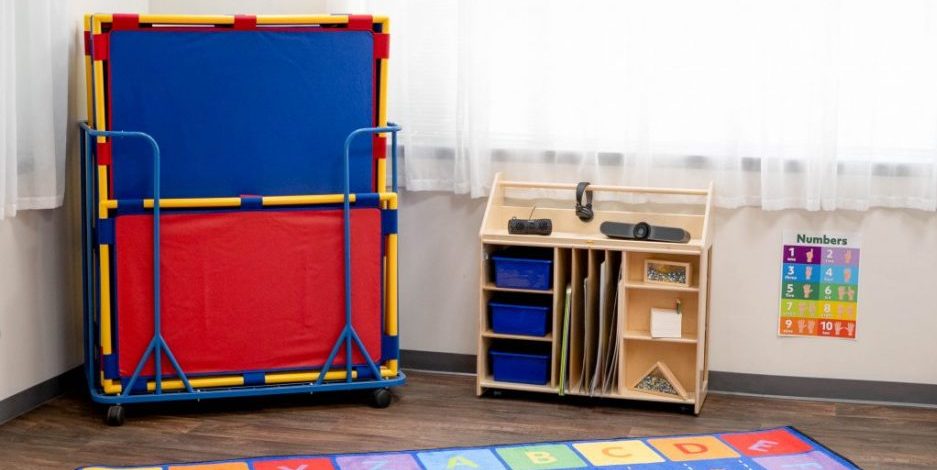 Life would be a utopian dream if every classroom had oodles of space for every single flex-space a teacher or student could conceptualize. The reality is most classrooms don't have enough space for everything on our wish lists.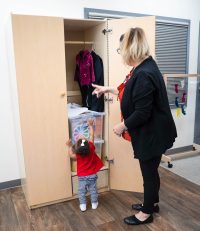 Remove Unnecessary Furniture
Remove large items you don't use every day. For example, the piano could easily be exchanged for a keyboard. Keyboards are easy to store in a closet after use. Kidney tables are awesome for large spaces, but when space is limited, it might not be the right choice. The other option is to replace your "teacher desk" with a kidney table you can use for small groups. Place a Teacher's Locking Storage Cabinet behind it for your teaching aids, lesson plans and personal items.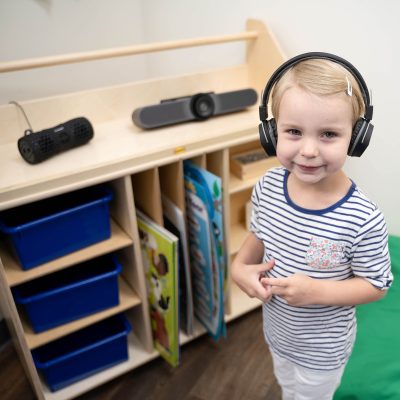 Technology Storage Is a Must
Arrange for media equipment to be stored elsewhere if it isn't used daily. Many classrooms use media centers daily as one of their main "nooks". Our Audio Storage Unit with Tubs is a great choice in either case. It rolls on casters if you need to store it in a closet or move it to another classroom. It also features storage bins for keeping different media experiences organized and a top rack for hanging headsets.
Carefully Consider Wants Vs. Needs
Do students really need their own desks if you are moving them from flex-space to flex-space all day? Arrange to have a nice locker unit for their personal items so they don't need a desk. Our 10-Section Wall Locker is a great choice for freeing up floor space. Stackable Lockers also help maximize limited space.
Consider how to position furniture to create focused learning spaces or pods. Desk arrangements can facilitate this process and easily be changed throughout the year. You might need the following:
Collaborative work

Independent work

Teacher-centered instruction

Small group lessons

Large group discussions
Position the teacher in the center of the room. This makes it easy for all groups to focus on the teacher at the end of each session.
Use our narrow Toddler 6 Section Cubby for housing books around the perimeter of your classroom. When most of the books are located in one small library nook, then students are forced to crowd around to find a book. By spacing books around the perimeter of the room, kids will naturally spread out. The teacher can also direct kids to a less congested area when necessary.
Establish a Home for Individual Student Supplies and Personal Items
When kids know where to place items for different lessons then they will keep the room tidy. The teacher will have less clean up at the end of the day. Putting items away directly after each lesson is great for building positive habits.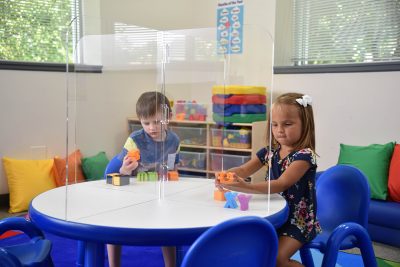 If you can't see kids, then safety is always a concern.
If students are forced to interrupt others to gain access to the items, then the room needs a redesign.
Temporary COVID Solutions

Use plastic/acrylic clear desk dividers to utilize tables for multiple children when 6 ft. of social distancing is not achievable. The other option is the separate desks with our Clear Rectangular PlayPanels.  PlayPanels are lightweight and easy to remove at a later date.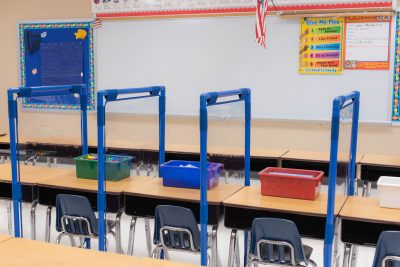 Get Creative with Group Management
You could split your classroom in half. This way, you can have half the kids working in centers and half working at tables. Flip flop groups throughout the day to ensure everyone gets to participate in each activity. We recommend our Double-Sided Book Display, which is mobile and easy to move. The Wood Clear Back Storage is also a great choice since it won't hinder sight lines.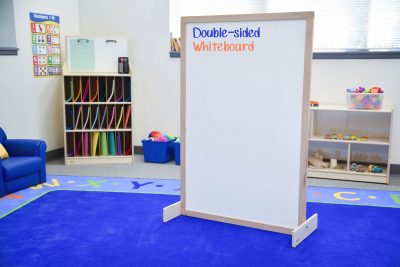 Another option is to use a Whiteboard Room Divider or Pegboard Room Divider. These dividers don't have storage but can become a go-to place for art displays or homework assignments. (Also available on casters!)
Create Portable Flex-Spaces
Mobile units on casters are easy to move. Units with a bunch of cubbies are convenient for housing trays for different activities. Creating a reading nook, audio/visual center, tinker space or any other space is easy when you have the appropriate furniture. Our Mobile Drying Rack is perfect for creating an art nook. It features two magnetic dry-erase boards with storage trays for painting supplies or dry-erase markers. Simply roll it from space to space or store in a closet when not in use.
Use Every Nook and Cranny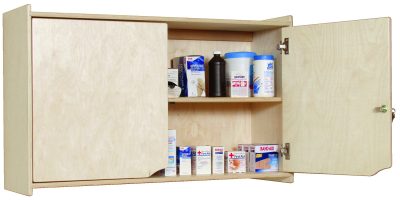 Use the walls for storage whenever possible. Removing clutter from the floor frees up space for new activities and increases safety since tripping hazards are eliminated. You might ask, "What is the most convenient storage system for teachers?" There are many, but our Locking Wall Storage Cabinet is perfect for small spaces. It doesn't take up any valuable floor space, and it can be hung so toxic materials, medication and valuables are only accessible to teachers. The locking mechanism acts as a failsafe to keep everything inside secure.
For floor cushions, our Value Line Birch Wood Cushion Cart provides adequate and compact storage for (12) 2" thick or (24) 1" thick floor cushions. The Universal Rest Mat Cart stores (40) 1" or (20) 2" thick rest mats in a similarly convenient and compact solution.
The Big Takeaway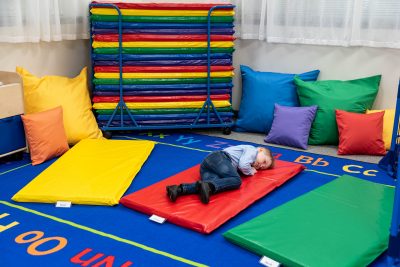 Maximizing small classroom spaces isn't as difficult as some might imagine. The hardest part is usually overcoming the fear of taking the first step.
References:
https://www.scholastic.com/teachers/articles/teaching-content/tips-and-tricks-supersize-your-small-classroom/
tags: