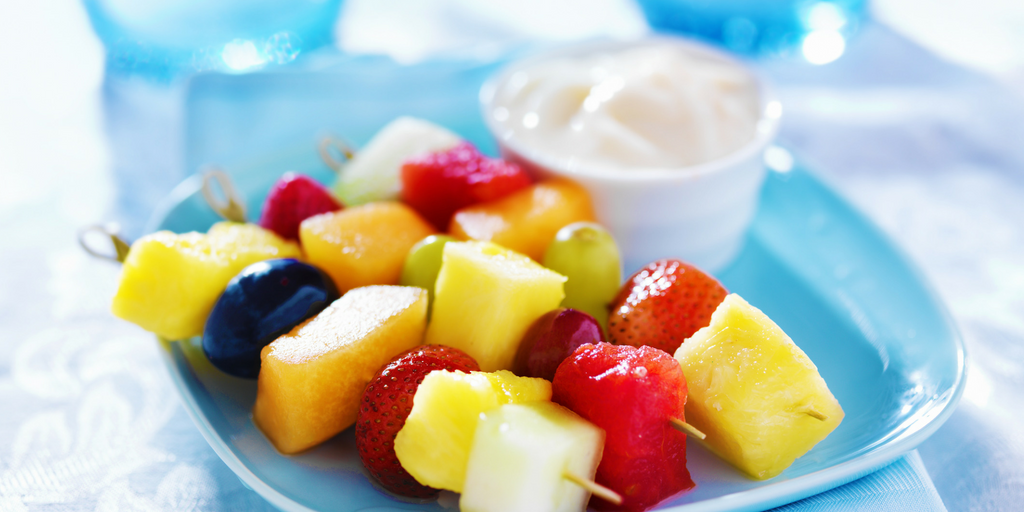 5 Easy and Healthy Summer Snack Ideas for Kids
Summer is the perfect time to introduce fresh, nutritional and seasonal foods to your kids. Here are some easy and healthy summer snack ideas for kids this summer.
Homemade popsicles
Summer isn't complete without popsicles. Skip the sugar-packed grocery store options and opt for natural homemade popsicles instead. It's a good way to utilize the left-over fruit from the farmer's market.
Procedure: Add one cup of mixed berries (frozen or fresh; both work) in a blender with 1/2 cup of vanilla yogurt and two tablespoons of water. Mix until smooth and pour into popsicle forms. Freeze for 8-10 hours. Carefully remove popsicles from molds and enjoy.
Rainbow fruit plate
Creating a colorful fruit plate is a good way to showcase many delicious snack choices. Kids will also enjoy helping to create this yummy masterpiece.
Procedure: Add this fruits in the following order: Strawberries (red), honeydew melon (orange), pineapple (yellow), kiwi fruit (green), blueberries (blue). Add a some of the marshmallows at the end of the rainbow for a sweet treat.
Mix it up: Swap raspberries for strawberries; green grapes for kiwi fruit, mango for pineapple, and so on.
Cucumber Cups
The cucumber cup is more fun when you eat the cup it comes in.  It is ideal for your summer picnic snacks because they are easy to prepare and can be combined with almost anything edible.
Procedure: Trim the ends of a large cucumber. Cut the cucumber crosswise into one-and-a-half-inch slices. Scoop out the middle of the cucumber with a tablespoon, being careful not to cut through the bottom.
Zucchini "fries"
The summer garden wouldn't be complete without zucchini, and if you don't have an excess growing in your yard, it's a sure bet that the local farmer's market has you covered. These "fries" make a good, kid-friendly snack or side dish.
Procedure: Preheat the oven to 400 degrees. Cut zucchini length-wise into fry-sized sticks. Spread zucchini sticks into a baking sheet. Spray with olive oil and sprinkle with breadcrumbs and parmesan cheese. Bake for about 10-15 minutes or until tender and somewhat browned.
Watermelon on a stick
It wouldn't be summer without wallowing in some food on a stick. However, instead of heading to nearest corndog stand, make your kids a healthy summer snack on a stick with watermelon.
Procedure: Cut your watermelon into triangular parts. leave the rind on if you want. Slice the pieces into about 3/4"  1-inch thick. Put a popsicle stick into the stick or base of the triangle.
Ants on a log
Improving on this classic is hard. Ideal for summer snacking, the mixture of crisp celery, creamy peanut butter, and sweet raisins is refreshing, filling and satisfying. 
Procedure: Spread peanut butter onto celery (the log) and add raisins (the ants) on top of the peanut butter.
In conclusion, these summer recipes are crafty, creative, and a copious amount of fun. Stay cool with these summer snacks and see if your kids find some new favorites!
tags: